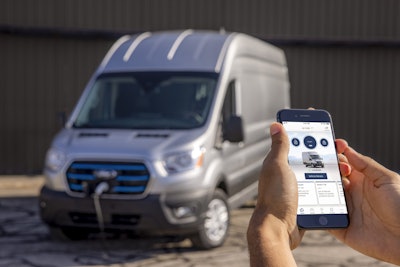 He drew a line in the sand, or the silica more like it, and I suppose it's hard to blame him.
During the recent reveal for the all-electric 2022 Ford Transit, Ford CEO and President Jim Farley made it clear that his company was on board with all-electric vehicles, California-style.
"This is the path we're on," Farley said during the Nov. 12 virtual event. "Ford is totally committed to being carbon neutral by 2050. We're standing with California for higher standards, lower emissions and cleaner air. And we're proud to support and live up to the Paris agreement."
I'm sure the high-tech all-electric eTransit and all-electric F-150 will find their place among a sea of commercial fleet vehicles, so long as range and charge times are respected. DHL Europe told Commercial Carrier Journal's sister publication Hard Working Trucks it found a great niche for the electric Transits and E-Scooters — delivering packages.
The stop-and-go traffic of parcel delivery is great for recharging those batteries through regenerative braking. Freezing temperatures were not a major concern either.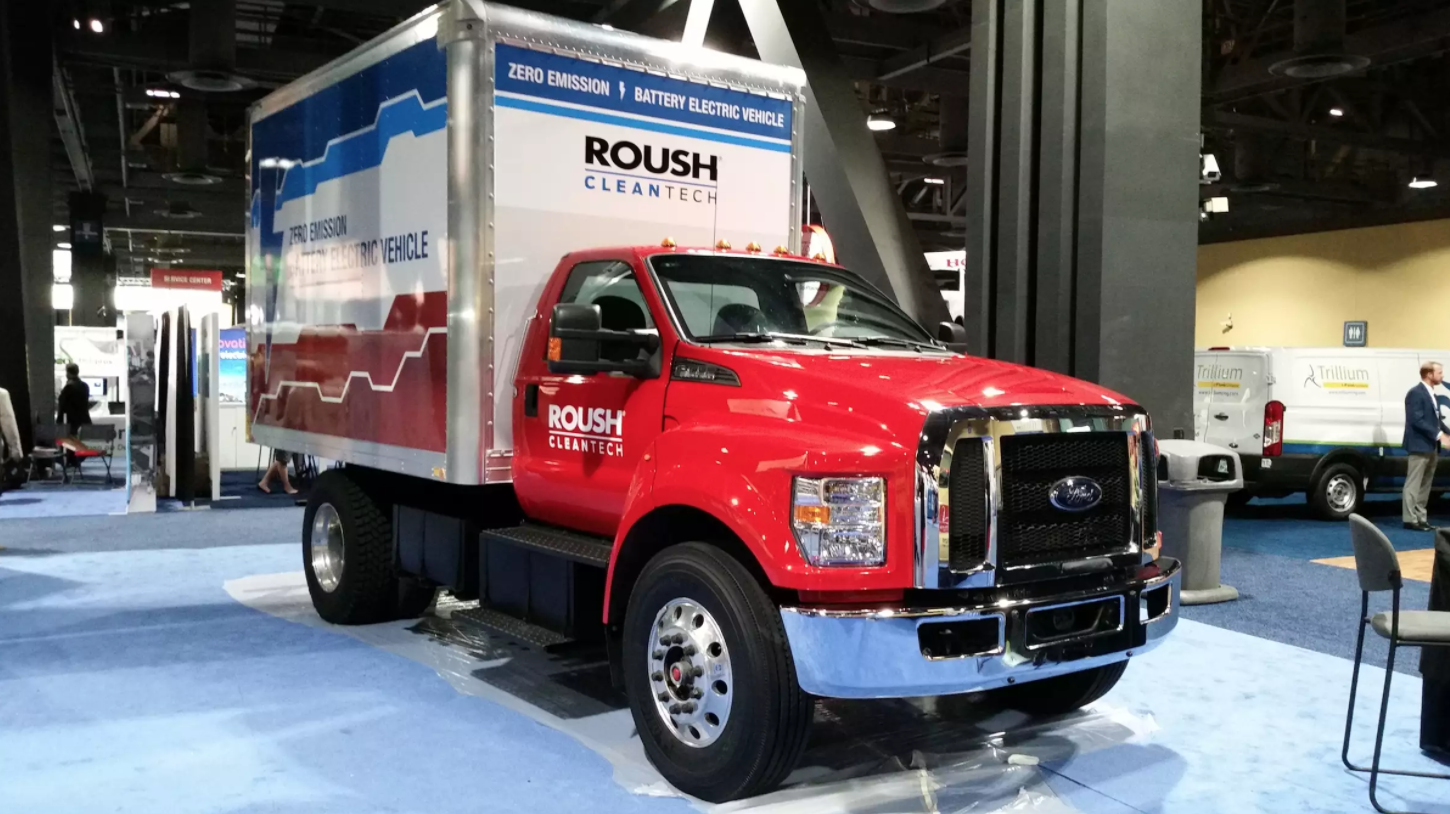 The obvious key to success with an electric commercial vehicle is having predictable and manageable loads and routes that don't impede too heavily on range. Stick with that and enjoy a total cost of ownership that's roughly 40% less than conventional, according to Ford. Plus, with 90% fewer powertrain components than conventional, production costs will work out to be much lower in the long run — another plus for OEMs and their customers.
However, California's not just pushing for lower emissions, as Farley said. They're gunning hard for zero emissions. Of course, in the interim, they want to lower emissions. Who doesn't? The end goal, however, is to have all commercial vehicles sold in the state to emit absolutely no pollutants at all. The gradual phase-in starts in 2024 and by the deadline in 2045 all commercial vans and trucks sold in the Golden State will have to meet zero emissions standards.
According to the California Air Resources Board, 15 other states and the District of Columbia have signed up for California's zero emission goals and apparently Ford has too. But do they all share the same bias? In its commitment to a zero emissions future, California has been repeatedly criticized for favoring all-electric transportation over zero-emission fuel cells. Commercial Carrier Journal recently reported on how the state's own Democrat leaders drafted a letter to Gov. Gavin Newsom pointing out the state's obvious enchantment with EVs. The three-page letter calls for California to snap out of it and embrace a neutral approach on the adoption of zero-emission technologies. In following the money, Western States Hydrogen Alliance told Commercial Carrier Journal that since 2008 state "investments have been over 10x more into battery electric vehicles than fuel cell electric vehicles."
Championing much of those investments are eager politicians who can steer the massive multi-billion-dollar auto market with the stroke of a pen. While campaigning for the White House, U.S. presidential candidate Joe Biden said that he wants to roll out more EV chargers and convert the entire U.S. government fleet to all-electric. His environmental plan, which endorses the controversial Green New Deal, promotes EVs but doesn't mention fuel cells once.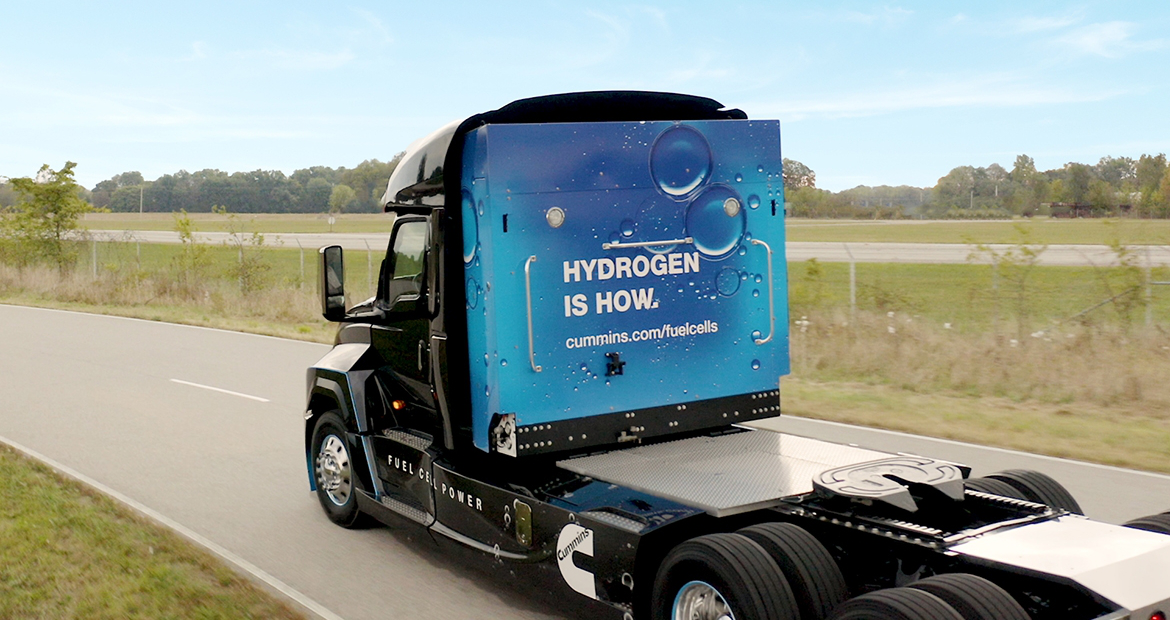 So why the greater interest in all-electric over fuel cell? I reached out to Ford on that since they're obviously big believers in battery-powered workhorses, at least as far as the eTransit and an all-electric F-150 are concerned. But these models aren't intended for more demanding work like the rest of the F-Series lineup. Let's face it: A battery-powered F-750 isn't going to be hauling around a few 2x4s and plywood. These are serious work trucks that demand serious power to stay on the job. That's something that fuel cells can provide. They're not relegated to downtime because of charge times and they require far smaller battery packs which leads the way to more promising and stronger duty cycles.
"There is no question about the potential of fuel cell technology," said Emma Bergg, Ford's global EV communications manager. "With a steadily growing share of renewable energies, hydrogen will play an important role in the future. In terms of a widespread market launch, however, the battery is currently in a superior position to the fuel cell – not least because of the cost situation and the available infrastructure.
"Our short and mid-term work will focus on electrification; however, Ford will continue to pursue fuel cell technology as an integral part of our overall future powertrain strategy," Bergg continued.
Bergg hit on two great points: cost and infrastructure. Fuel cells are up against a double-whammy. On the manufacturing side, fuel cells incur significant layers of complexity and cost. On the fueling infrastructure side…well, at this point the U.S. Department of Energy is showing 45 hydrogen stations in the country versus 27,329 Level 2 DC fast chargers. With so much more investment required, it's not hard to see why OEMs and even some fleets—depending on their needs—would opt for all-electric.
But again, when it comes to keeping up with long-haul and other demanding applications, fuel cells are superior. While progress has been made on all-electric commercial trucks and vans, a lot of challenges remain. NFI told CCJ that the Freightliner eCascadias they're testing can't compete with the range of a diesel. They can get three round trips from their large Chino campus to the ports in Long Beach and L.A. with a conventional rig. Long charge times relegates them to only two such trips in an eCascadia. That's a 33% drop in productivity right off the bat.
The only way NFI and other fleets testing Class 8 all-electric rigs can get their bean counters to stop twitching over high EV-related costs is through generous government incentives. I suppose as long as taxpayers don't mind, fleets can buy more electric trucks and chargers and keep on trucking in the short haul. Remember, these are regional haulers. NFI's longest round-trip to the ports is roughly 120 miles.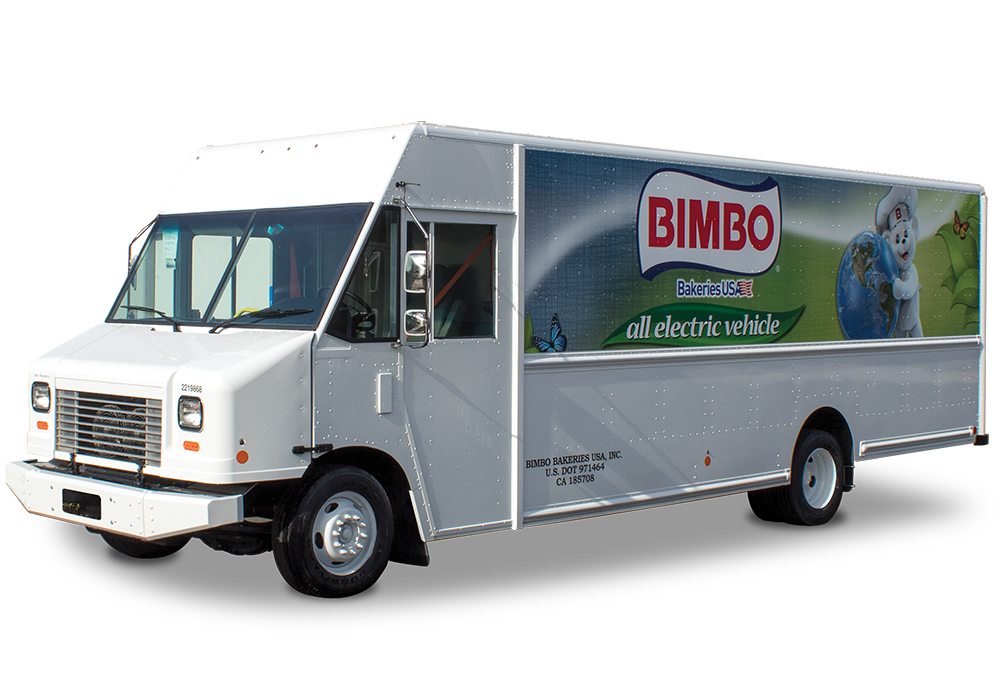 Maybe Ford is sitting on new battery technology. That's possible. Recently, battery start-up QuantumScape in California made headlines with its solid-state battery, which provides greater energy density, faster charge times, lower production costs and none of the crazy drama of lithium-ion battery fires which landed Tesla with some tough headlines, along with a federal investigation. (Regardless, it hasn't hurt their stock).
Volkswagen got smart early on and struck a deal with QuantumScape. VW and Ford, you might remember, struck a deal in early 2019 to produce commercial pickups and vans. In adding all of this up, it's not too far-fetched to see Ford and other deep-pocketed OEMs also plugging into solid-state soon.
But conversely, it's also not too difficult to see Ford exploring fuel cell more for tougher applications. Like GM, Ford has been dabbling in fuel cells for years. It provided a fairly glowing report about 12 years ago on fuel cell Focus sedans that it was testing as part of a United States Department of Energy project. On the truck side, Ford's joint venture company JMC launched Class 8 fuel cell trucks in Shanghai, China in September 2019.
It was announced then that a total of 2,000 trucks, powered by Horizon Fuel Cell Technologies, would be coming in a few years. That would make it the world's largest roll-out of Class 8 fuel cell trucks. The cab-over regional haulers have a range of 310 miles. Horizon announced at the time that it was designing a truck with a nearly 1,000-mile range.
Just as it wasn't hard to imagine Ford's electric Transit partnership with DHL Europe leading to the automaker bringing an electric Transit to the U.S., it's not hard to see Ford eventually doing the same through its fuel cell work in China.
Plus, while pursuing zero emissions, it makes good sense to pursue another fuel source in addition to the grid particularly in California where wildfire mitigation efforts and over-consumption has left the Golden State tarnished by power outages. Other states, particularly those in the Southeast, may lose power for several days or even weeks at a time because of severe weather. Hurricane Michael left us without power for two weeks here in Florida.
During that time we no longer saw any of those new Teslas, Chevy Bolts and Nissan Leafs buzzing around, though the gas stations and our sole CNG station remained busy filling up cars and trucks. It was a lasting reminder of how fragile the grid can be at at time when EVs are growing fast in popularity. It's definitely a lesson worth remembering, since no one wants to be stuck on the sideline when it matters most.