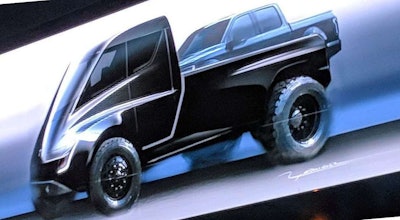 Electric, electric, electric. Are you tired of it yet? Hope not, because more EVs are coming. Ford just revealed its electric Mustang this week which looks more like a crossover SUV intended to take on Tesla's Model X.
And then there's Bladerunner. That's what Tesla CEO Elon Musk said to think about when asked about his electric pickup which will be revealed this Thursday in Los Angeles.
Interestingly enough, the popular 1982 sci-fi film starring Harrison Ford opens in Los Angeles in November 2019. Coincidence? Doubtful. Cue the laser lights amid volcanic-like emissions of dry ice as Musk's new pickup rolls into view with Ford emerging from the cab. He's all smiles and the crowd goes absolutely nuts. Could it happen? It wouldn't be the first actor to team up with an automaker.
For the past three years Musk has carefully teased his battery-powered truck which includes the drawing above. In the summer of 2018 he said its range would top out at 500 miles. But is that running unloaded in a vacuum? Who knows. This past June, he got bolder and said the truck would outperform an equivalent Ford F-150 and a standard Porsche 911.
It's no surprise that Musk is throwing punches at other auto manufacturers. He now has plenty of competition in the emerging electric pickup segment including Ford, GM, Rivian and Workhorse.
Ford, Rivian and Workhorse have already shown off working prototypes to the public. Ford released an impressive video showing their electric F-150 pulling over a million pounds worth of cargo on railroad tracks. Rivian debuted their truck and electric SUV last year at the LA Auto Show and later took their new tech on a memorable trip to Aspen, Colo. where there's plenty of money to go around. And Workhorse beat everybody to the punch by letting reporters, including yours truly, get behind the wheel of their W-15 prototype two years ago in Long Beach, Calif.
But Musk's real personal battle looks to be coming from Workhorse by way of Lordstown Motors Corporation. Founded by former Workhorse CEO Steve Burns, Lordstown Motors announced last week the acquisition of GM's plant in Lordstown, Ohio where the discontinued Chevy Cruze had been produced. It took ten months to close the deal which was met with resistance from UAW members.
The W-15 has been scrapped in favor of a new truck dubbed Endurance. The tailgate will feature prominent Lordstown badging. Its production is being headed by Rich Schmidt, Musk's former director of manufacturing at Tesla, according to Reuters.
The quiet and torquey W-15 prototype was originally introduced in 2017 with a range-extending engine. An all-electric variant was added in 2018. The truck racked up 6,000 pre-orders. Lordstown Motors reported in a press release last week that the W-15 pre-orders will be fulfilled, but details are scant on those redesigned trucks.
No doubt, Musk is hoping for plenty of fanfare this week in Los Angeles. The controversial CEO is now up against an investigation by the National Highway Traffic Safety Administration which is taking a close look at a rise in battery fires in Tesla vehicles. Hard Working Trucks has long reported on these fires which unfortunately have proven deadly in some cases.
Regardless of the method of propulsion, it's pretty clear that an unfettered free market will seek out safe, affordable and capable modes of transportation that offer the least amount of challenges possible in terms of fueling, maintenance and repair.
Electrifying passenger cars is one thing and even then range and recharging times has ranked as a common concern for those that wish to venture outside of predictable daily commutes. Electrifying vans and trucks is another issue entirely. The demands are greater given the added strains of payload and towing. While I'm impressed with Workhorse's chutzpah in letting reporters drive their W-15 in 2017, we didn't get a chance to tow or haul with it. We just drove it around a large parking lot adjacent to the Long Beach Convention Center.
Once electric pickups finally roll off the assembly line, reporters will need some time to see what they can do. Until then, I'm falling back on the wisdom of Carlton Rose, president of global fleet maintenance and engineering at UPS. UPS knows a thing or two about electric trucks. They tried them in their fleet in the 1930s and have been busy giving them another shot decades later. While reduced maintenance and zero emissions are great things, it doesn't mean much if those trucks can't get the job done.
"Range has been an issue," Rose said earlier this year while giving the keynote address at the Green Truck Summit at The Work Truck Show in Indianapolis. "If you have a vehicle that will only go 100 miles, a delivery driver can't go out 51 miles. Commercial electric trucks are still a work in progress."
So with that, unless the OEMs have some new surprises coming, I'm expecting to see electric pickups as mostly glorified grocery getters staying close to home with occasional hauling and towing thrown in on the weekends. That's fine for certain demographics, but it's not on par with internal combustion which can remain hard at work around the clock without concern for range.