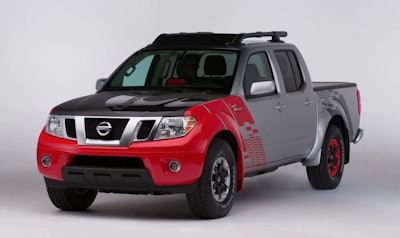 Trying to produce a great-selling pickup reminds me of trying out for quarterback.
Me? I knew better. I couldn't throw all that well but I could bust through a line, so I earned a spot at nose guard. It was tough work. Sometimes I had two guards and the center coming at me, but I ate it up and relished wreaking havoc in the backfield.
Eventually I got a tough wake-up call when I moved up to high school. Our state championship team was super competitive and I didn't make the cut. That stung. I concentrated on wrestling which provided plenty of challenges and rewards.
Both sports left me with valuable, life-long lessons, the best of which is know your abilities, know your competition and prepare accordingly. That lesson came to mind recently when I heard that Nissan was dropping the diesel option in its Titan XD starting with model year 2020.
I attended Nissan's ride-n-drive event in 2015 when engineers had high hopes for the diesel-powered odd-duck: a 5/8-ton tweener that was larger and stronger than a ½-ton thanks to its 310-hp Cummins 5.0-liter V8 which delivers 555 lb.-ft. torque.
Weighing in at roughly 6,740 lbs., the truck stays in control of heavy loads. While doing some hurricane clean-up here recently in Panama City, Fla. (yes, there's still plenty of work to be done 10 months following Cat 5 Michael), we towed roughly 7,000 pounds (a dressed-up Kubota 4701 on a tandem axle flatbed) while hauling a bed full of oak firewood in a 2019 Titan XD diesel. The truck handled great. There was never a moment when we didn't feel confident in its power to accelerate quickly from a dead stop or come to a safe, fast stop at a busy intersection.
But one of the biggest problems, as a reader recently reminded me, is the price. A 2019 Titan XD diesel crew cab 4×4, which maxes out at 12,200 pounds towing, starts at $46,760. A 2019 Ram 2500 Big Horn 4×4 crew cab with a 410-hp 6.4-liter HEMI gasser tows up to 19,580 pounds and has an MSRP roughly $700 less at $46,045.
It's also no secret that the 2020 diesel half-tons from Chevy, Ford and Ram offer impressive power and fuel economy to match. The 2020 Ram 1500 EcoDiesel is tops in towing at 12,560 pounds, 360 more pounds than the XD diesel. While Ram said it will land best fuel economy for model year 2020, thus far that award goes to Chevy with 33mpg highway for its 3.0-liter Duramax tucked inside the 2020 Silverado 1500. The Ram 2019 1500 with a 3.0-liter EcoDiesel is rated at 27mpg highway while the 2019 Ford F-150 3.0-liter PowerStroke delivers 30mpg highway. At best, I got up to 19.5mpg highway in that Titan XD, and while towing and hauling it dropped down to an average of 7.5mpg.
So it's interesting to think where Nissan is heading next with its pickups. The Frontier, Titan and Titan XD are all undergoing changes for 2020 to compete better in an increasingly challenging space. I'm holding out that Nissan will eventually come back around to diesel. Given growing competition in the full and mid-size segments, it seems they don't have much choice and thankfully they've already got valuable experience to build on.
Some of you may recall that Nissan unveiled its Frontier Diesel Runner at the Chicago Auto Show in 2014 (top photo and below). The truck housed a Cummins 2.8-liter that delivered 350 lb.-ft. torque. Fast-forward to the Detroit Auto Show in January. Cummins put a 2.8-liter on display that's now up to 389 lb.-ft., which is 20 lb.-ft. more than GM's 2.8-liter Duramax found in the midsize Colorado and Canyon. Frontier currently undercuts all midsize trucks in price. Throw in a Cummins diesel with an optional manual trans for the 2020 Frontier that not only is more powerful than both GM trucks but also costs less and you could end up with an exciting and enticing moment in pickup history.
If Nissan really wants to turn heads, they should crank out a diesel hybrid. Ford has a hybrid F-150 and an electric F-150 on the way. Ram already offers a mild hybrid through its eTorque option. You can't help but think that Nissan can draw on plenty of electric powertrain talent courtesy of its Leaf team which currently produces the most popular EV in the world. Come to think of it, Nissan could probably beat everyone to the punch with an all-electric Frontier.
Whatever they have in store, Nissan's going to have to prepare with much more foresight this time around. Ford and Volkswagen certainly aren't waiting. They've teamed up to produce electric trucks and vans. Next year's mid-size Jeep Gladiator pickup will be offered with a diesel powerplant. The Ford Ranger and best-selling mid-size Toyota Tacoma won't be sitting around either. Point is that capabilities, options and features are growing fast in this brutal arena and Nissan's going to have to come out swinging hard and smart to earn back some truck cred.