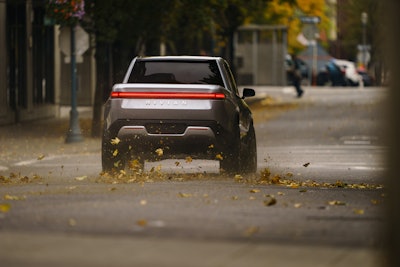 This month a story broke about an electric Ford F-150 test mule getting juiced up at a charger.
Autoblog reported that the truck could be a plug-in hybrid (picture below shows a tailpipe), or it could be all-electric with the tailpipe hanging there as a ruse.
Ford did say it would be producing a hybrid F-150, but it also said the truck would not be a PHEV, which may mean that this mule was actually all-electric, or Ford may be tinkering around with a PHEV, or the tailpipe was simply a prop.
What makes this all the more interesting is that Rivian CEO RJ Scaringe told the Detroit Free Press this week that his company been testing its all-electric powertrain in F-150s. Are they spy-wrapped like the truck shown in the picture below? DFP doesn't say, but here's what Scaringe had to say about using used F-150s for testing.
"We need something to keep the weather out while we put a lot of miles on our skateboard, so they're driving around in Detroit right now, too. They're all over the place, but nobody knows. We're very quiet about that," Scaringe said.
While Scaringe reports that there's no corporate connection to Ford, it still is intriguing stuff for sure. Let's not forget that Automotive News recently reported that GM and Amazon were both considering becoming stakeholders in Rivian. GM later demurred, according to Fox News Autos, while Amazon plunked down $700 million for the cause.
When we reached out to GM for comment, we were told: "We admire Rivian's contribution to a future of zero emissions and an all-electric future."
So who knows who Rivian will be dancing with next and why. As far as anyone knows, they're still on track to producing the all-electric R1T pickup and R1S SUV at their own plant in Normal, Ill. Still, it's interesting to think how Scaringe opted for an F-150 as a test mule over a GM, Ram or other OEM. Is Scaringe courting Ford? Maybe not. But, I can't help but think about something I read today recalling how Toyota acquired Hino.
Another interesting point about Rivian is that it stands a real chance at giving Tesla a run for its money in the nascent electric pickup segment. So far, Rivian is ahead of the game in brining an electric truck to market, but Tesla may not be far behind. Musk announced on Twitter Tuesday that his company will be making "some news" at 2 p.m. Thursday in California. Whatever it is, I'm sure Scaringe will be watching.
Electric Ford F-150 prototype spotted charging: https://t.co/aOOstPvL0V pic.twitter.com/vdaGsApQSd

— Autoblog (@therealautoblog) February 5, 2019