I had tossed around the idea some but hadn't really given it much thought until the applause came.
The EV industry has a new frontman and his name is RJ Scaringe, founder and CEO of Rivian.
The Florida native made a huge impression today at the LA Auto Show when revealing his company's long-anticipated R1T pickup and R1S SUV—both designed to blow the doors off any factory produced counterpart. (Zero to 60 in three seconds in a pickup?! Ford Raptor and every other pickup has a lot of catching up to do.)
But back to the applause. I was hunkered down in the aisle with my new Canon carefully aimed at the stage when Scaringe emerged. The emcee gave a brief introduction as he walked up and then the dam broke loose. The cheering and clapping was beyond congratulatory—it was cathartic.
With all the head-shaking headlines surrounding Elon Musk and Tesla, Scaringe signals a fresh start and with plenty of chutzpah to match. I mean, he didn't just roll out a few fancy EV sedans—he went for the heart of the auto industry: pickups and SUVs. And he went big.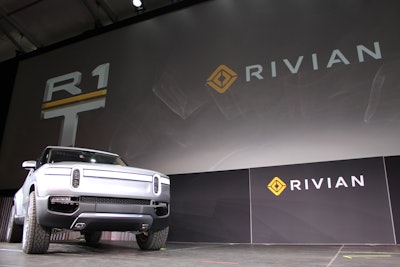 He did what EV godfather Bob Lutz said should have been done years ago—roll out the big guns first and impress with capability, then release the smaller EVs. But the reverse was done and now most pickup owners snicker at the thought of an electric truck or SUV.
But Rivian's vehicles—judging by the specs—are anything but slight. An electric truck with roughly 800 horsepower and 2,500 lb.-ft. of torque per wheel (and that's one motor per wheel) will drag other pickups around the parking lot with ease.
Battery placement between the front and rear wheels delivers a low center of gravity which enables 45-degree hill climbing. Computer-assisted torque vectoring delivers precise power to each wheel for the climb up and down.
The sealed battery compartment is temperature-controlled and protected by a Kevlar-like composite material. Rivian has seemingly left few stones unturned in terms of not only protecting the battery pack but also maximizing energy density in tough climates where EVs have traditionally lost range.
"Regardless of ambient we control the temperature of the pack. Whether it's in Minnesota on a -30 degree day, or if it's in Dubai on a 120-degree day, the vehicle maintains the same temperature with the battery pack," Scaringe said.
The pickup also has a towing capacity of 11,000 pounds. Of course, that begs the next question: How far can it tow 11,000 pounds before it needs to be charged up?
As with the Workhorse W-15 debut in 2017, we need to get some credible time behind the wheel to get to know Rivian's pickup. The truck has serious muscle and now the next step is to see what it can really do and for how long.
It's apparent that Scaringe is prepared to deliver. The MIT graduate presents an easy-going and affable manner capped by an impressive and undeniable dedication to EV innovation. (Look for our interview with him tomorrow). Whereas Musk finds himself juggling every ambition known to man and perpetually playing Tweet Czar fending off various entanglements, Scaringe is seemingly more down-to-earth, refined and conscientious. Not to knock Musk too much—he must be credited for leading an EV surge that even found its way into the Class 8 segment where formidable and legendary truck gods followed and put up their dukes and announced plans for Class 8 electric powertrains of their own. Musk's story is far from over and he'll soon be launching an electric pickup of his own, not to mention his Semi. But wait…will he be jettisoning those in space, too?