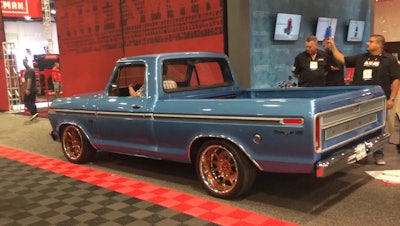 I don't think you can ever spend too much time at SEMA. There's just too much to see in a single week.
Unlike in the past, this year I stayed until the last day of the show. I wrote up a final to-do list the night before and hit the ground running that morning and stayed until the show closed at 4 p.m. on Friday, Nov. 2.
I was surprised at how fast exhibitors took down their booths, packed up and drove out of the Las Vegas Convention Center. An unexpected highlight was hearing engines roar to life just after an announcement was made that the 2018 show had come to a close. (While I wasn't at Chevy's booth to see their all-electric eCOPO Camaro drag car whirring to life, I'm sure it was eventful as well.)
In the video below, watch the driver in a '67 Shelby Mustang G.T. 500 from Classic Recreations raise both fists in the air just after hearing that the show had ended.
His brief celebration is a reminder of how an ultra-amazing auto show like SEMA can challenge exhibitors, buyers and journalists alike.
Most of us are accustomed to events that have a clear beginning, middle and an end. Football games are a great example. We're all privy to who's making great plays and who's not. But SEMA's different in that each booth is its own game with plenty of talent and impressive results to go around.
To that end, we'll be running more SEMA-related stories in the days ahead because after all it's the kind of show that just keeps scoring points long after the last vehicle leaves the building.