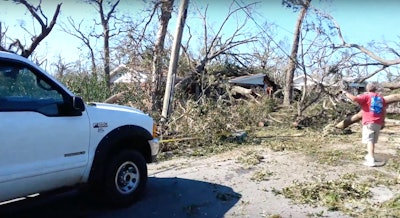 The sun would be setting soon so we had to move out fast to see how our home held up following Hurricane Michael which had just unleashed an unforgettable fury a few hours before.
It was about a mile-and-a-half walk from the church where we rode out the Cat 4 storm (just 2 mph shy of a Cat 5, according to the National Hurricane Center).
Looking at all the downed trees and power lines and damaged buildings and vehicles near Good Shepherd Lutheran made me all the more eager to get home and do something—plug in the generator and power the fridge and set up the radio to hail Dad across town to check on him, Mom and my son, Josh.
Trees of all kinds—even giant oaks we never imagined falling—laid across all roads in Donalson Point. Still, we had to get home. Our pace picked up as we walked around and sometimes over these mangled barricades.
Amid the setting sun we saw battered roofs, shattered windows and more power lines and street signs knocked down. Unbelievable. We were even more stunned when we finally arrived at our house. Huge heritage oaks had fallen like dominoes. In most cases, these giant trees were uprooted like weeds. One landed on our house, but we didn't know how bad it was until we walked inside.
My flashlight revealed a branch that had stabbed straight through the kitchen ceiling. The room was flooded along with the den next door. I told my boys that we had to move fast and get back to the church where their sister was waiting. I didn't want her to worry. Cell phones were down and I had no way of talking to her.
Much to our relief, all the other rooms in the house looked fine. We took off just as the sun was dipping below the horizon. Off in the distance a strange orange hue punched through lingering grey clouds and lit up a few leafless trees that remained standing in a stark landscape that kept reminding me of Tim Burton's The Nightmare Before Christmas.
A few moments later and it was dark. Really dark. The street lights we had once jogged under at night were gone.
Our flashlights led the way and for the most part we did remarkably well in retracing our haphazard path back to the church. There were a few twists and turns through prickly branches that I'd like to forget, but otherwise I was proud of my boys for sticking to it while trying to wrap their heads around the destruction that was unleashed on our neighborhood.
When we got back to the church we relayed what we had seen to others and headed for our little room and tried getting to sleep. So much for that. My mind was in overdrive as I kept thinking about how to get in touch with my family in Southport; how to bandage the house and keep additional rain out; how to hook up the well to the generator; how to protect our home from looters; how to cover the rear window of our car that was blown out by a business marquee across the street; how to get the water out of our car that pooled up on the floor.
I had a lot of time to think. I was tempted to break the 8 a.m. curfew and get outside just to listen to the radio in the car to get more information, but I didn't want to leave my three kids behind and upset church staff. So, I waited and waited on an air mattress with a slow leak.
Finally the sun came up, and I did manage to get an hour or two of sleep, which was fine. About 50 people had packed into the church's concrete bunker. I wandered among a few of them eager for some cold coffee.
After rousing the kids, we headed out with a neighbor around 8 a.m. We made it past downed power lines which we were told had been shut down by Gulf Power. The morning light revealed so much devastation. A nearby cell tower had been bent over like a piece of licorice. The cinder block exterior walls of the bingo hall on U.S. 98 had been blown over. As we walked past the remains of this popular hangout the smell of cigarette smoke came on strong and reminded me of the Vegas casinos. SEMA was coming up and it was hard imagining that amazing and flashy venue amid all this destruction.
Just past the bingo hall was a small car dealership that had been laid flat. Its buildings had been ripped away revealing plenty of shop tools. Too easy for the looters.
Before too long we ran into some neighbors who offered to give us a ride in their pickup. They couldn't go far, but we appreciated the ride nonetheless. They saved us about a ¼-mile or so of walking and got us up to Stratford Avenue with downed trees.
Another pickup was following behind us. It was a stout 2001 Ford F-250 FX4. Its 7.3-liter Power Stroke diesel engine purred confidence. It was great to hear. The driver, Jeff Bridges, had come from Pensacola to help out his sister in Donaldson Point. He had brought a chain saw. Another person in our small caravan also had a chain saw. Within minutes those saws were roaring under that hot Florida sun and cutting through limb-packed barricades.
Bridges also brought a tow strap and a chain. Thank God for that. That truck pulled out plenty of stubborn trunks and branches and we did the rest. We sometimes had to veer off the road into front yards, but we kept cutting and pulling out the downed trees that kept us from our homes, neighbors and loved ones.
After two hours or so, we came to a stopping point. Downed power poles and power lines couldn't be cleared with chain saws. But we had made a lot of progress. I was feeling exhausted and light-headed so I took refuge inside a neighbor's Toyota Tundra which had plenty of cold A/C. A neighbor who lived close by said he had access to a backhoe at the paper mill if he could only get there.
After a while, I reemerged refreshed from the pickup and ready to walk home. My 12-year-old son and his 14-year-old sister had already caught up their friends down the street. I was happy for them. My oldest son, 19, had stayed behind and kept plugging along like a steady workhorse among our crew but now it was time to walk the rest of the way home.
Once we got to Sunset Drive, we came across another neighbor who also had been busy with a chainsaw crew of his own. The way back home was slowly clearing. I told them of the progress we had made down the street and headed for the house.
Daylight revealed so much more that we couldn't see the night before. Professionals would have to remove our downed oaks, especially the huge one that had fallen against the house in the backyard and punched two holes through the roof.
The boat I had been restoring on the back porch had a huge oak limb resting on the outboard. It was amazing that the transom was still holding up under the weight. The engine cowl was cracked and the boat filled with water, but otherwise it looked okay. I'll have to wait and see how the Chaparral 19 FS truly held up. In the meantime, there were much more important things to be done. I needed to try contacting my family across town on our marine radio, get the generator going and tarp the roof.
I had three 12-volt batteries charged up and ready to go. I hooked one up to our radio, made a mast out of 2-inch PVC for the 8-foot antenna and leaned it up against the house. A few minutes after keying up and calling for my Dad, Wild Rice, he totally surprised me and walked inside our wet den with my 17-year-old son, Josh. Talk about gratitude and hope. If he had made the trip from Southport, then at least one road was cleared which opened the door for more progress amid one of the strongest storms ever to hit the U.S.