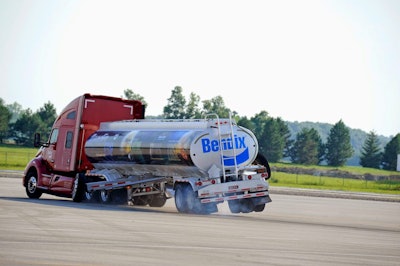 One of my favorite parts of my job is test driving trucks.
Who wouldn't enjoy a little time on the open road?
I've had a commercial license for nearly three years and climbing up in a tractor never gets old.
Most of my drives are for a single day or a few hundred miles, but in September I embarked on a nearly 1,000 mile, three-day trek across the southeast in a Mack Anthem.
Driving a few hundred miles gives me a good idea of powertrain performance and driver comfort, but to really get a good understanding of the ins and outs of the lifestyle you need to fill out a few pages in a log book.
Part of that lifestyle – aside from truck stop lunches and navigating clogged lots playing hide-and-seek with a parking spot – is getting a bird's eye view of your surroundings. But even with all the romance of the open road, there are certainly hazards.
Here are a few takeaways from my drive from North Carolina to New Orleans.
Most people can't drive
According to the National Highway Traffic Safety Administration (NHTSA), the total number of people killed in traffic crashes in 2017 was 37,133 – down from 37,806 in 2016.
Given the number of people I saw watching their cell phone screens rather than the road in front of them, this is surprising. The same NHTSA report says distracted driving-related crashes numbered 3,166 last year – 8.5 percent of all traffic fatalities in 2017.
I actually watched one person take what looked like a selfie at highway speed, so I would attribute any lives saved to safer vehicles and driver assistance technologies before I would improved driving habits.
When I was growing up, cars came standard with these things called "turn indicators," but like the manual transmission I guess they are either no longer available on many models or people have simply forgotten how to use them.
A shockingly high number of people like to tailgate a semi. I understand this practice is generally an encouragement to speed up but we can't see you back there so it's a wasted effort.
Worse than the tailgaters are the brake-checkers. At 65 miles an hour, a tractor-trailer needs about 500 feet to stop. I'd be willing to bet the majority of the four-wheeling public doesn't know that.
Trucks are safer now than they have ever been
Considering all the reasons listed above, NHTSA says the number of fatalities in 2017 involving large trucks increased by 9 percent compared to 2016.
Electronic stability control is now standard on new trucks, and I have twice inadvertently tested the Bendix Wingman Fusion collision mitigation system on a test drive: Once in a Volvo earlier this year and once on a Mack two months ago.
Case One: A guy in Greensboro, N.C., was about to miss his exit. His solution was to make that right turn from the left lane of a three-lane highway and across the hood of my VNR. Good news: He made his exit but could have hurt or killed several people in the process.
Case Two: Two months ago, just outside of Memphis, I moved into the left lane to let a car merge from the on-ramp. After making its way onto the interstate, the car sped around me, moved in front of me and climbed on the brakes to make an illegal U-turn through the grassy median – all without signaling. In both cases, the Fusion system – set to react at a following distance under a second – swooped into action and managed an aggressive braking event as the cars got out of my way.
According to the American Trucking Associations, the average truck on the highway is about six years old, so even though many of these systems are standard on newer trucks they don't yet make up a majority of the highway.
A 9 percent uptick in large truck fatalities would be much higher without these systems.
The driving experience has never been better
The seats have never been more comfortable, the sleepers more spacious or elbow room more plentiful.
Practically every OEM has implemented suggestions from driver focus groups that have pushed out door mirrors, angled in wing panels and dropped the hood nose to improve visibility.
Switches have been moved fractions of an inch to make them easier to reach and in some cases they have been made larger so they can be activated without removing your gloves.
Gear selectors for AMTs are migrating away from the knee-space robbing cobra head and onto the dash panel or steering column.
None of that sounds like a big deal but after maxing out your daily hours, they certainly feel like it.
Trucking isn't an easy or glamorous career but it is a noble one and thanks to technology and ever-increasing attention on driver satisfaction it's safer and more comfortable than ever before.