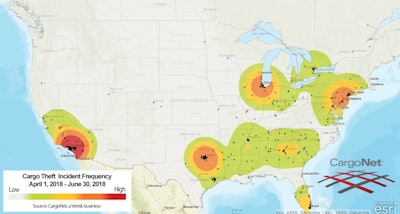 While sting operations in law enforcement are nothing new, video of an apparent bait truck loaded with brand new Nike shoes and parked in a Chicago neighborhood has gone viral after residents there confronted police and complained about what they say are unfair tactics.
Okay, if a food truck was left where people were starving, I'd buy that argument. Otherwise, forget it. Cargo theft is a problem around the country—and Chicago in particular has had a history of making some tough headlines about it.
CargoNet, which works closely with law enforcement agencies, trucking companies and the National Insurance Crime Bureau, recently released its second quarter report for 2018 on cargo theft, and wouldn't you know it, Chicago is shown to be in one of four areas in the nation where cargo theft rates are high (see map above). Dallas, Los Angeles and Edison, N.J. are three other major cities located within the three other regions where cargo heists are a frequent problem.
In 2014, CargoNet worked with various law enforcement groups, including the FBI, to help stop a cargo theft ring based out of Chicago.
"Search warrants implicated the ring in the latest series of fictitious pickups as well as cargo thefts in the Chicago area dating back to June 2013," CargoNet wrote in its press release in 2014.
While cargo thefts across the U.S. and Canada were down 4 percent overall in the second quarter compared to this same time last year, "CargoNet also recorded an increase in cargo theft in the province of Ontario and the state of Illinois," the report reads.
What?! Illinois?! That can't be true. Say it isn't so.
Unfortunately, some cargo theft stories have come to really haunt the Windy City. Just last October, ex-con Andrew Shelton, who had already served time for shooting three people, was sentenced to 10 years in prison for stealing over a hundred firearms from a railroad car.
"Within days, the weapons were showing up at crime scenes around the city — at shootings, stashed under gutters, left on porches and tossed during police chases," the Chicago Tribune reported.
Sorry, you'll not find any sympathy here for those opposed to cargo theft stings. For that matter, the alleged bait truck used recently in the neighborhood of Englewood did result in the arrest of some "shorties" according to the French fry chomping 'activist' who recorded officers setting up the truck.
That's good news. There's absolutely nothing wrong with getting thieves off the street. Maybe they'll learn a valuable lesson and not repeat the same mistakes Shelton made. After all, he too had grown up in a poor Chicago neighborhood and instead of looking for a legitimate career, he chose to earn a reputation for stealing cargo that would ultimately lead him to flooding his own city streets with dozens of stolen guns.
"To date, only 19 of the 104 firearms Shelton helped put on the street have been recovered by law enforcement," the Chicago Tribune reported.
In the meantime, headlines keep pouring out from media outlets across the U.S. sympathetic to these so-called activists who are upset with officers that are working hard to cut down on cargo theft and, God forbid, get some other Sheltons off the street.
Sorry, go peddle that tripe elsewhere. I taught in a Title I school for years where poverty may have been rampant, but there were also plenty of opportunities to better one's self. Still, no matter how hard you'd try, some would turn their backs on any help you had to offer and opt for a darker path instead. Too many of those students ended up in the news and locked up like Shelton.