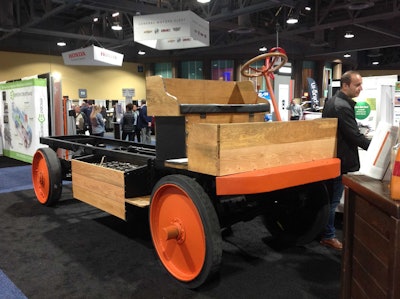 This year at ACT Expo I was happy to see that electric truck startup Thor brought along an electric 1917 Walker truck.
The old truck and others like it are not only fascinating from a technological standpoint, they also serve as great reminders of how competitive and challenging it is to create a lasting vehicle brand, especially in a niche market like electric.
I mean, who's ever heard of OEMs like Walker, Riker, Winton and Wood? These were all aspiring auto manufacturers doubtless staffed with extremely sharp and eager talent ready to provide the country and the world with electric trucks well over 100 years ago.
Take for instance the Winton electric vehicle. Literal horsepower ruled the day in 1899 with emissions concerns centering on the flickering tails of horses that could quickly turn a road into a filthy mess.
No stranger to market opportunities, Winton went after the big bucks and attempted to woo the U.S. Postal Service with its electric truck in December 1899 in Cleveland, Ohio.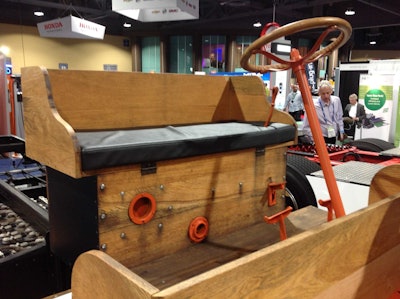 "The letter carrier collected mail from 126 boxes along a 22-mile route in two hours and 26 minutes, during a snowstorm. With a horse and wagon, it usually took six hours," the USPS writes in an intriguing account of EV history at the nation's oldest parcel delivery service.
All six pages are worth your time. One of my favorite USPS assessments on EV tech speaks to the same issue that still concerns fleets today: charge time.
"In 1900, Postmaster Freeman Dickerson tested automobiles in Detroit, Michigan. An electric model by the Wood Motor Company was tested on January 10, 1900, for carrying mail between the main Post Office and its stations. On February 14, a gasoline-powered model by the Detroit Automobile Company was tested on the same routes. Both vehicles were more than twice as fast as horse-drawn wagons, although the gasoline-powered automobile was slightly faster. Dickerson informed Second Assistant Postmaster General William Shallenberger that in his opinion 'an automobile operated by gasoline will be far preferable' for carrying mail, as it would not have to spend equal hours out of service, recharging. In Washington, D.C, two Riker electric mail wagons were being used by August, 1900. The Riker Motor Vehicle Company of Elizabethport, New Jersey, designed the vehicle specifically for postal use. It weighed 1,800 pounds and could carry 200 pounds in addition to its operator. On one charge, it could travel 25 miles at 12 miles per hour."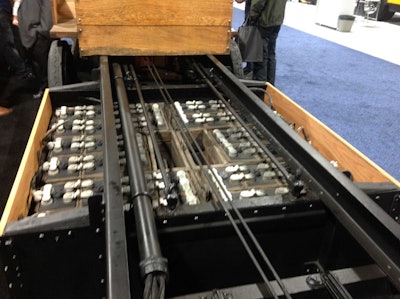 True, failure on the EV front is a consistent theme throughout the report. Take for instance this write-up on the electric Ford Ecostar, which with support from Southern California Edison, helped deliver the mail from 1993 to 1998 in Huntington Beach. These EVs were the first used by the post office to offer regenerative braking.
"Although the Ecostars performed well, concerns raised by Ford of catastrophic battery failure ended their evaluation as delivery vehicles."
Oops!
There has also been success. The New York Power Authority donated 10 2-ton Solectria CitiVans to the Postal Service for use in major New York boroughs. The trucks first entered service in 1998. When this report was published in 2014, these EVs were still at work performing deliveries and pickups.
While the Postal Service report offers an interesting and even humorous look back at the commercial EV market (they even gave the Segway a shot in 2004), it also serves as a great reminder of the importance of tenacity in vehicle innovation.
Battery charge times are much faster than ever before. For instance, Advanced Vehicle Manufacturing unveiled their first EV at ACT Expo this year, a mid-size shuttle bus with a lithium-titanate battery that features a 10-minute charge time. DC fast chargers are drastically reducing charge times. Engineers I spoke with said more advanced battery technology supports faster and faster charging.
Battery weight is also dropping. Agility Fuel Solutions announced at ACT this week their partnership with Romeo Power Technology to produce battery packs for commercial Class 4 – 8 vehicles.
"We have a highly configurable offering from 40 kWh all the way up to over 600 kWh," Agility senior vice-president Todd Sloan said at the press conference. "It will be lightest in the industry at over 200-watt hours per kilogram. It will also be the smallest at over 300-watt hours per liter."
Romeo CEO and founder Mike Patterson is ready to compete and offered fleets free design and cost analysis to determine viability for going electric.
"All you need to do is send us space claim. We'll give you a couple of questions. There's no cost with this whatsoever and we will configure a design for you and turn it around and show you what this will look like," Patterson said. "We will give you all the cads and the specs that you will need to make a move and the cost. It's just getting more and more competitive and the future is just getting more and more electric."
Battery prices are dropping, too. Mike Roeth, president of NACFE, told me this week how just a few years ago U.S. Department of Energy goals for battery costs seemed really out of reach.
"The DOE target of $100 per kWh seemed so far off," Roeth explained. "That was just so far out there. Well, now, people are talking about $75, $60 (per kWh). They've kind of blown by that quickly."
NACFE does make clear in its report on Class 3 – 8 commercial battery electric vehicles that EVs are not for every fleet. Obviously, lower mileage routes, such as those found in P&D and regional hauling, are better suited.
Cost parity is also becoming a reality. In February, UPS and Workhorse announced that they would be teaming up to build 50 plug-in electric delivery trucks that will be roughly the same price as conventional-fueled trucks without any subsidies. That's encouraging news.
What's not encouraging, still, are the issues concerning payload and towing capacity losses owed to those heavy batteries on board. Plus, range, though improving, still can't compete with an internal combustion engine, a hybrid or a hydrogen fuel cell.
Consider the headline today: Nikola scores large truck order from Anheuser-Busch. From Clydesdale horses to hydrogen fuel cell hybrids and all-electric powertrains, Anheuser-Busch has seen it all and more of their money is on hydrogen—not all-electric. The company is buying up to 800 hydrogen-electric tractors versus 40 Tesla Semis.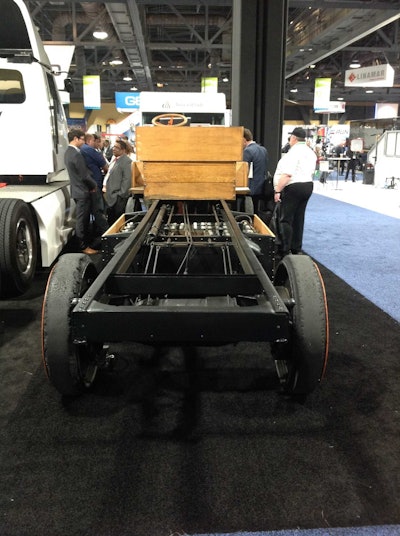 I remain impressed with the lower maintenance costs for EVs. They're virtually maintenance free compared to their ICE counterparts.
But, what about emissions you say? The horse apples of 100 years ago have given way to CO2, NOx, CO and particulate matter.
EV loses on that front, too. The California Air Resources Board gave AMP America's renewable natural gas (RNG) a carbon index score of -255 compared to 35 for electric. So, if carbon index scores really matter all that much, why does EV keep getting a pass?
And then comes the flood of EV batteries. All of those batteries currently in use in countless hybrids and EVs are coming home to roost. An ACT panel this week addressing second-life battery use was intriguing. Degraded batteries can be repurposed for stationary or even portable energy storage. They could take the place of back-up power generators, charge up other EVs, power the home and office, etc. But then someone in the audience asked the question that most everyone probably had in mind: What do you do with battery following its second life use? Recycling is not completely efficient–plenty of toxic slag is left hanging around following the process.
EV tech continues to make strides, but there's still plenty of progress to be made.