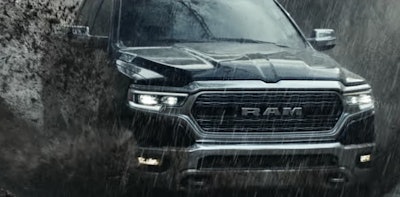 Ram found itself playing defense following a Super Bowl TV ad that ran last night which highlights an excerpt from a 50-year-old Martin Luther King Jr. speech.
The ad, titled "Built to Serve," plays about one minute of audio from a speech King gave in 1968 during which he points out the importance of aspiring to serve others.
While nobody's complaining about King's message, plenty of viewers have expressed disappointment in Ram for playing a King speech during an ad that also promotes their pickups. (A Ram truck intermittently pops up between various scenes in which people are shown working and helping each other; the truck's total screen time is about 10 seconds.)
"I think it's good to bring back memories of our great heroes…but not in a car commercial," writes one viewer on Ram's YouTube channel where the ad thus far has gotten nearly 1.3 million views.
As of tonight, the video has gotten roughly five thousand votes for a thumbs down, while around two thousand support it.
One viewer who likes the ad, took the time to find King's original 1968 speech online and then posted a link to it at the end of his comment:
"So, no matter how you feel about the ad, the important thing is the speech. The ad made me search out the incredible words of Dr. King and be amazed again at his incredible gift for oratory. Let us focus our attention on what he said. The clip they used is from paragraph 33-34 ending with, 'You only need a heart full of grace, (Yes, sir, amen) a soul generated by love. (Yes, and you can be that servant.) Here is the entire speech: kingencyclopedia.stanford.edu/encyclopedia/documentsentry/doc_the_drum_major_instinct."
The ad generated so much controversy on social media that several major media outlets have reported on it, including The New York Times and Fox News.
HWT reached out to Ram for comment: "It is­ 50 years to the day that Dr. Martin Luther King Jr. gave such a tremendous speech about the value of service. Ram was honored to have the privilege of working with the Estate of Martin Luther King Jr. to celebrate those words during the largest TV viewing event annually," a statement reads.
"We worked closely with the representatives of the Martin Luther King Jr. estate to receive the necessary approvals and estate representatives were a very important part of the creative process every step of the way," the statement concludes.
Ram's other Super Bowl ad that aired last nigt, "Icelandic Vikings," has fun pairing up Vikings with a 2019 Ram 1500 Limited as they set out to make it to the big game in Minnesota. To date, it's gotten around 8.7 million views along with 5,000 likes and 1,000 dislikes.
Ram's Vikings ad takes some creative and comedic license on Viking history and is soundly beating out "Built for Service" in terms of views and likes. In short, funny wins. And that's something that was largely missing from this year's Super Bowl ads—funny ads that you'd like to see again almost as much as a replay following a critical play.
Ram is not the first OEM to generate controversy around a Super Bowl ad and it probably won't be the last. In 2007, GM got pushback for airing an ad showing one of its robots getting fired from an assembly line and then committing suicide during a dream sequence. After meeting with the American Foundation for Suicide Prevention, GM chose to edit the video and omit any references to suicide.
The interesting twist here, however, is that CBS affiliate WREG in Memphis reported today that the King Estate released a statement supporting Ram's ad following the uproar and "found that the overall message of the ad embodied Dr. King's philosophy that true greatness is achieved by serving others. Thus we decided to be a part of Ram's 'Built To Serve' Super Bowl program," the King Estate said.
Others outside the King Estate that either agree or disagree with their decision can continue to turn to social media to air their views in the wake of some of the biggest publicity to follow a Super Bowl ad.