Imagine a major parcel company acquiring its own vehicle manufacturing business and then striking up a major deal with one of the world's largest OEMs to expand its vehicle lineup.
German-based DHL made headlines in 2014 when it acquired StreetScooter, an electric van company. After enjoying success with thousands of low-maintenance P&D vans that average around 50 miles per charge, DHL caught the attention of Ford, which this month announced that it would be spending $11 billion towards the electrification of 40 vehicle models.
Last year, Ford agreed to supply DHL with Transit chassis which not only became the foundation for the mail company's largest van, it also offers the greatest payload at nearly 3,000 pounds and the best range with a maximum of 124 miles. The first jointly produced Ford & DHL StreetScooter Work XL van was revealed in August. Plans are to produce 2,500 vans this year. (Specs for all three StreetScooter vehicles are posted below).
And they may not just be limited to Europe. Ford said recently at the North American International Auto Show that it's prepared to help DHL take electric vans around the globe.
"If there were appetite, we could help to replicate the business," Steven Armstrong, the head of Ford's European business, told bloomberg.com. "We have had an early discussion that we do have that global footprint."
When it comes to global distribution for an electric van, both Ford and DHL are sitting pretty. First, electric trucks and vans make more sense in a P&D setting where range and payload isn't as much an issue as it is with larger vehicle classes. Plus, with all the stops the vehicles make each day, regenerative braking is working overtime charging those batteries. Second, both Ford and DHL are global brands with plenty of resources. Third, DHL is doing much more than just putting some of its vehicles to the test at some remote proving grounds—they're staying busy putting thousands of vans to work delivering packages around Germany which offers varied topography and weather. Lest we forget, hills and freezing weather have proven challenging for all-electric powertrains. Regular, large-scale driving in conditions like these can offer invaluable research.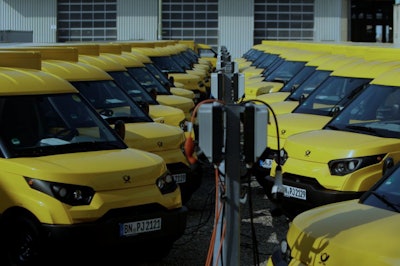 The DHL and Ford partnership is very intriguing and compelling. Imagine Ford owning a massive masonry or lumber business where thousands of its latest pickups are hard at work each day delivering product to job sites around the world. To a certain extent, OEMs can glean useful feedback from fleets and others who use their pickups regularly. But in the case where the OEM owns and completely manages that large fleet, data collection along with minor tweaks and major changes can be carried out more uniformly and efficiently with fewer constraints and concerns for liability. All the while the OEM is turning a profit in a lumber or masonry business while performing constant data sweeps over thousands of hard working pickups. If ever an OEM had an incentive to build a more capable vehicle it would be then—to support its own work truck-based business while the world watches.
Though it's still too early to release empirical data on their new Work XL, DHL reported this week that they're happy with the results of their smaller Work and Work L vans.
"After approximately 13 million kilometers (8,077,826 miles) driven by our more than 5,000 StreetScooters, the results are very gratifying for the company," said DHL spokesman Alexander Edenhofer. "The electric vehicles, which have to stop and start again over 300 times daily on over 300 days each year, have proven themselves in the tough world of everyday mail service.
"Besides that, their costs for maintenance and wear are 60 to 80 percent lower than for similar conventional vehicles," Edenhofer continued. "In addition, operation of the approximately 3,700 StreetScooter WORK and 1,300 WORK L models results in an annual reduction of more than 16,000 tons of carbon emissions, an important contribution to climate protection and noise reduction."
More than 5,000 electric vans with over 8 million miles…DHL has a nice data farm for the emerging commercial EV market. It'll be interesting to keep an eye on the partnership with Ford to see where they go next.