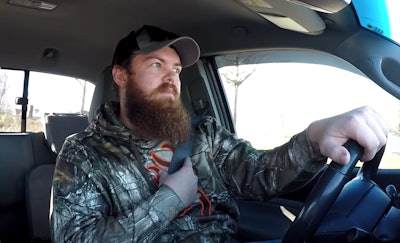 While electric trucks and vans are generating a lot of headlines lately, they're still a long, long way from running internal combustion engines out of the market.
In the interim, there are mechanics out there wondering what their future might look like in a world of electric powertrains. For instance, a semi mechanic recently posted a video on YouTube carefully recalling Elon Musk's talking points while pointing out the minimal maintenance issues of battery-powered propulsion.
The video has gone viral. On the one hand, the mechanic is clearly impressed with Musk's claims of power, efficiency and reliability in the Semi. On the other, he's thinking that his days as a diesel mechanic are numbered.
"As far as I'm concerned, I think we're going to be out of a job in the next 10 to 15 years," says the mechanic who goes by the YouTube handle Test it/Fix it/Build it. "The only thing us mechanics are going to be needed for is changing tires…Nobody in the history of trucking has built a truck that they've guaranteed for a million miles."
He later adds that wheel bearings on the truck may offer up more work. Other than that, he's genuinely concerned about his job prospects.
It should be noted that while insightful, the mechanic's comments are geared solely towards Tesla and do not refer to other companies that have been hard at work developing new propulsion systems for Class 8 haulers, such as Nikola and Toyota, both of which have made impressive strides in hydrogen fuel cell technology.
Also, surprisingly, he doesn't mention range limitations of the Tesla Semi, which, even with a max range of 500 miles, is still geared more towards regional hauling. That leaves plenty of room for long haulers that can easily surpass that range. Battery weight is also left out, which is a vital point because as attractive as a low maintenance electric powertrain might be, if you've got to sacrifice thousands of pounds of payload for batteries and can only travel half as far, where's that really going to get you in the long haul?