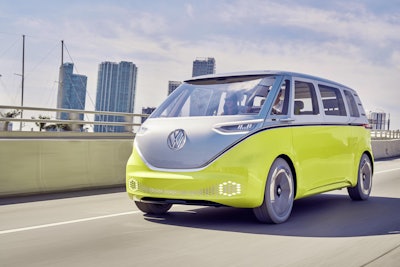 Volkswagen of America's I.D. Buzz electric vehicle was named "2017 Concept Truck of the Year" at the 16th Annual North American Concept Vehicle of the Year Awards despite the fact the modernized Micobus throwback isn't a actually a truck. Like, at all.
The I.D. Buzz, the fourth VW concept to win the honor, was recognized by a panel of judges with praise for its inventive combination of electric mobility and forward-thinking style.
The electric MPV, the second of three models in the I.D. concept pipeline showcased to-date, is built on the Modular Electric Drive Matrix (MEB) and highlights how electric power can be suited to larger vehicles.
Housed in the floor, the batteries and drive system provide an estimated all-wheel-drive range of up to 270 miles and up to 162.5 cubic feet of cargo space inside with the rear seats folded.
The van – or truck, I guess – features a retractable steering wheel that senses the driver's intentions to headlights and exterior lighting that can provide communication with pedestrians based on its I.D. Pilot autonomous driving mode. Ambient lighting inside and out provide a visual signature that make the I.D. Buzz unmistakable and timeless.
More than two dozen jurors participated in the selection process of the North American Concept Vehicle of the Year Awards, judging 20 vehicles – each introduced to North America during this season's auto shows in Los Angeles, Detroit, Chicago, Toronto and New York.
The I.D. Buzz beat out other finalists in the "Concept Truck" category, which assessed vehicles with the primary attributes of user-configurable cargo volume and weight capacity.