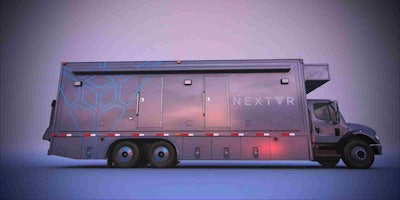 Trucks have enabled business portability since their inception.
One standout vocation on wheels came along in 1920. That's when Ohio resident Harry Burt invested in refrigerator trucks and created what many considered to be the first ice cream trucks. Burt had his drivers play music to attract customers, which were mostly wild-eyed kids pining—okay, whining—for their parents' money and then racing toward that truck.
It wasn't long before Burt's trucks and the Good Humor ice cream brand drove their way into the heart of Americana.
I like the formula here. I was never a stellar math student, but I can appreciate this simple equation. Burt took a product that everyone liked, ice cream, added a truck and made it even better.
While the jury is still out on portable gyms and hair salons, portability usually equates to profitability, so long as consumer interest remains.
Portability is especially important for a cutting edge production company.
NextVR, a pioneer in immersive 3D virtual reality experiences, quickly learned that the sports and concert venues they were covering usually lacked the technology sorely needed for their high-tech 3D productions.
Determined to make each production as successful as possible, NextVR, based in Laguna Beach, Calif., decided to put their studio on the road by creating the world's first live virtual reality production truck. The effort has gotten them noticed.
"Having a VR broadcast truck to cover major events is another example of how NextVR continues to read the market in this emerging technology," says Michael Davies, senior vice president of field and technical operations at FOX Sports. "NextVR continues to distinguish itself as the standard setter in bringing live, broadcast-quality VR to sports fans excited about the content."
The truck is impressive. David Cramer, senior vice president of corporate strategy at NextVR, told Hard Working Trucks that mobile business builders Gerling & Associates used design plans from NextVR and Sketchtank to transform a 2016 Freightliner M2 106 into an amazing production studio that is equipped with all the technology that NextVR needs to create captivating virtual reality 3D content from one venue to the next.
The NextVR virtual reality production truck is divided into three parts: An audio mixing facility to produce VR 3D audio to improve the overall consumer experience; comfortable space for broadcast partners and event hosts to monitor the live VR broadcast; and computational resources.
"Downtime is unacceptable in a live broadcast," explains Ryan Sheridan, NextVR's senior vice president for imaging and production technologies. "This truck allows our production to be fully redundant, providing a distinct competitive advantage for us as we continue to produce world-class events with global appeal."
Powered by a 320-hp Cummins ISB6.7-liter engine, "the NextVR virtual reality production truck will allow for rapid deployment at an arena or stadium for the increasing demand for live virtual reality content," the company's press release states. "The truck is designed to be 'plug and play' by pulling up to any venue to immediately deliver a multi-camera, live stereoscopic VR experience complete with fully mixed 3D VR audio."
Wow…it's like being a kid again and hearing the ice cream truck coming. Even if I have to suffer through another tough Southern Cal defeat, I'm sure it won't be as bad watching and listening in virtual 3D. And who knows? Maybe it will get to the point where I can virtually slap someone on the back of the helmet, knock the Gatorade over or throw a playbook down on the sideline.
Here's a little more about NextVR from their press release: Launched in 2009, NextVR has more than 26 patents granted or pending for the capture, compression, transmission, and display of virtual reality content. NextVR's platform allows the fully immersive content to be streamed with pristine quality using current home and mobile internet connections. NextVR was founded by veterans in stereoscopic imaging technology, software development and an award-winning filmmaker. For more information, go to www.nextvr.com.