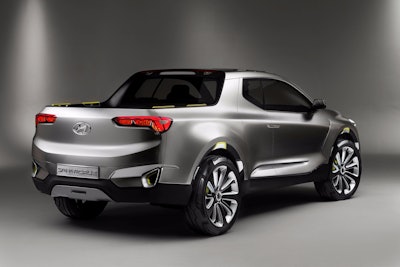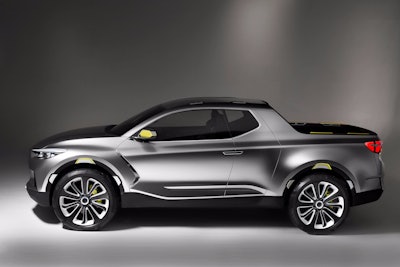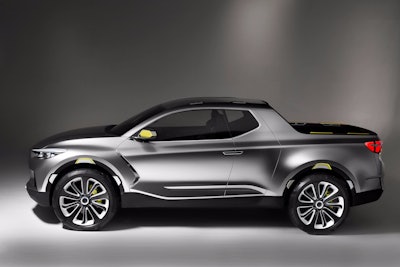 Rumors have swirled for years that Hyundai would introduce a pickup to the U.S. and at the 2015 Detroit Auto Show, the Korean automaker dumped gasoline on the fire by unveiling its Santa Cruz Crossover Truck.
That same pickup will make its Canadian debut at the 2016 Canadian International AutoShow in February.
The company hopes its Santa Cruz Crossover Truck Concept is a new look at a truck that would appeal to a growing group of Millennial buyers living in an urban environment, but it's really an attempt to appeal to SUV buyers who want a little more utility.
When it made its Detroit debut a little more than a year ago, the concept was stuffed with a 2-liter turbo-diesel engine that put out about 190 horsepower and 300 pound-feet of torque. That's good for about 30-ish MPGs.
The unibody pickup features compact dimensions, an extendable tailgate, rear-hinged rear doors, all-wheel drive, and seating for five.
At best we're talking the 2017 model year here but from the looks of it, Hyundai is hoping to give would-be Honda Ridgeline buyers something to think about.
And when Hyundai finally hits the gas pedal on production of the Santa Cruz pickup (or whatever they call it), you can bet Kia won't be far behind with a pickup of its own.