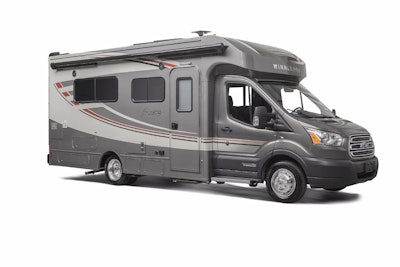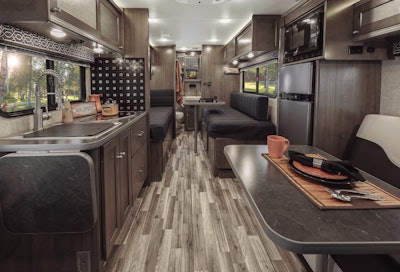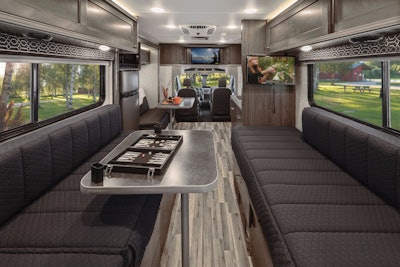 Is your favorite team bowl game-bound?
I spend most of the year waiting for football season to get here and if you're anything like me, the month of January has to pry that last game from your icy-grip.
Bowl games, if your team is any good, can take you halfway across the country and really put a damper on tailgating. Sure, you could drop a couple hundred-K on an RV, and roll into town in a three bedroom rolling home away from home.
Or you could scale down. Way down.
Recreational vehicle manufacturers have gotten their hands on Ford's Transit commercial van and the Winnebago Fuse, a Class C motorhome built on the new Ford Transit cutaway chassis, is the latest in a growing number of Transit-based options for active families.
Other manufacturers building motorhomes on the Transit platform include Thor Motor Coach and Coachmen RV, a division of Forest River, Inc.
Yaro Hetman, Ford brand manager for Transit, Transit Connect and E-Series, says sales of smaller Class C motorhomes have been on the rise for the last few years as younger, more active buyers enter the market.
Class C motorhomes include vehicle frame, suspension, powertrain and cab, with the living area accessible behind the driver's compartment. The Ford Transit cutaway offers additional options for lighter-weight chassis in Class C motorhomes.
If your team makes the College Football Playoffs, the Winnebago Fuse goes on sale in January and will be offered in two configurations – one with a rear bedroom slide-out featuring a queen-size bed, and another with a front slide-out, two twin beds and a rear bath. Each is available with the 3.2-liter Ford Power Stroke five-cylinder diesel.
If you need a little less elbow room, Transit also has choices for Class B motorhomes.
Commonly called camper vans, Class B motorhomes are built using OEM vans or panel trucks. Class B motorhomes drive like vans, and retail for between $60,000 and $130,000, according to the Recreation Vehicle Industry Association.
Transit's choice of three roof heights, two wheelbases and three powertrains gives customers the ability to customize their camper van cost-effectively, as choosing the high-roof Transit model eliminates the need to raise the roof or drop the floor of a traditional van.