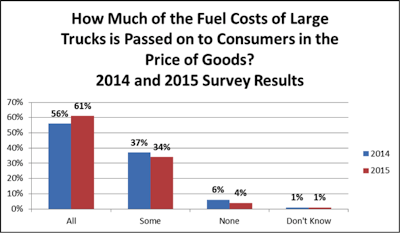 The general public is widely in favor of fuel efficiency requirements on medium- and heavy-duty trucks because a recent study suggests the population feels like it's footing the bill for a truck's inefficiency.
At a public hearing on increasing national fuel-efficiency standards, the Consumer Federation of America's director of public affairs and vehicle expert Jack Gillis presented the results of two national surveys demonstrating that consumers understand that the cost of fuel inefficient trucks is passed on to them and that they would like to see standards requiring increased
"When it comes to goods and services, the American consumer really does 'pay the freight.' More than $1,100 of the cost of the everyday goods and services households buy annually goes to pay for the fuel used to transport those goods and services," says Gillis. "From a household energy expense perspective, the amount consumers pay for truck fuel is almost as much as they spend for home electricity and about half of what a typical household pays for gasoline."
Two Consumer Federation of America (CFA) surveys – one conducted in July 2014 and the other in July 2015 – found that the vast majority of consumers (over 90 percent) understand that "some, most, or all" of the fuel costs of heavy-duty trucks, which transport virtually every consumer good, are passed on to consumers. In fact, over 55 percent believe that "all or most" of these costs are passed on to the consumer.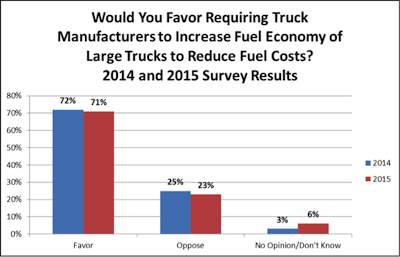 While public debate on the issue has largely focused on environmental and industry concerns, consumer economics are an important component of the decision to implement the proposed standards.
"The bottom line: consumers get it," Gillis says. "As a result, the Consumer Federation of America will be working hard to ensure the proposed standards are, in fact, adopted and implemented. In this particular case, what is good for the consumer's pocketbook is also good for the environment and the economics of the trucking industry."
With the average American household spending more than $1,100 on consumer goods and services to cover the costs of filling up inefficient trucks each year, implementing these standards is expected put an estimated $200 back into household budgets each year or a total savings of $170 billion nationwide. Consumer dollars saved through energy efficiency are often spent on goods and services, contributing to economic growth.
In both of the CFA surveys, consumers clearly understood the possibility of these savings as nearly three-quarters of the respondents favored requiring truck manufacturers to increase the fuel economy of large trucks.