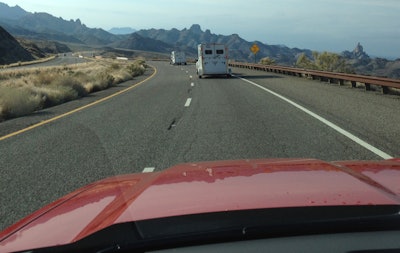 Team tests a dozen pickups in five days over hundreds of miles
Last week was one of the more hectic in my long career as an automotive journalist.
A friend and long-time colleague, Mark Williams, the editor of Pickuptrucks.Com, invited me to tag along with their team from Cars.Com to be one of the judges for the annual pickup truck shootout.
This year they were tackling 2015 1/2-tons, both V8s and V6s.
A dozen trucks in all from the major players; a huge undertaking that requires a lot of bodies, time and money to pull off.
I agreed. Being able to participate in such a test would provide some excellent editorial fodder for our Hard Working Trucks readers.
The first location for the five days of non-stop fuel economy and track testing was Chandler, Arizona. There the Cars.Com team split into two groups: 1/2 heading to the Wild Horse Pass Motorsports Park for the dragstrip performance testing the V-6 pickups.
Meanwhile I joined the other half running a 100-mile fuel economy test loop on the six Crew Cab 4×4 V8s through town, up the mountains to Canyon Lake, and back to the staging area driving the interstates.
They handled the fuel economy run just as we do at HWT: Towing and unloaded. Keeping interstate speeds to 65mph. Fueling up and refueling at the same pump.
They also switched drivers six times on the trip so everyone had a chance to review the pickups–and to balance out differences in driving habits. Very scientific approach.
Three of the trucks were towing identically loaded trailers, three running empty.
Then when we got back to the staging area, we switched trailers to the other three trucks, and repeated the 100-mile run. Long day. Revealing day as to how the different 1/2-tons responded and performed.
Much the same was done at the dragstrip where the Cars.Com guys gathered data, the trucks loaded/unloaded. The fuel economy testing was done the same for the V-6s while the V-8s headed to the track.
The second part of the week was spent in Laughlin, Nevada, running the loaded/unloaded trucks up the infamous Davis Dam grade–the very same location truck manufacturers and SAE use for tow rating validation and hot-weather testing.
We'll have a full story on the outcome the first week of January when Cars.Com releases their findings.
The 1/2-ton V-6 and V-8 winners picked from this exhaustive testing may surprise you.