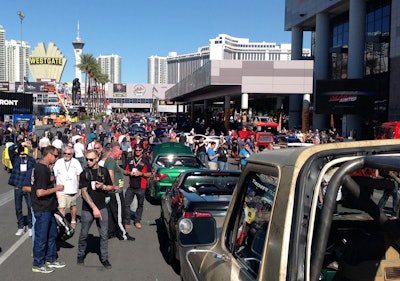 One of my most anticipated events every year is the Specialty Equipment Market Association (SEMA) trade show the first week of November in Las Vegas.
I don't particularly care for LV itself. But the SEMA Show is another story.
What makes this trade show so appealing is it's the annual gathering of all things new in the automotive aftermarket.
Even cooler is the sheer number and variety of customized pickups, cars, SUVs and other vehicles parked among the miles and miles of manufacturer booth displays.
I marvel at these vehicles' creativity and execution. There're street rods, muscle cars, pickups, one-offs, and concept vehicles at every turn both inside the multiple convention center exhibit halls and outside.
Like wheels and tires? A mile of them. Like great paint jobs? More than you'd see at most car shows. Like pretty girls? Tour the wheel displays. Want an autograph from celeb from one of your favorite racing venues or TV shows? Stand in line.
Looking for ideas to make your truck different and/or better performing? Bring a notebook and lots of storage for those digital photos.
The SEMA Show has it all many, many times over.
If you go, make sure you have great walking shoes, too. I hoofed more than 22 miles in 2-1/2 days and I only saw about 1/2 of the displays!