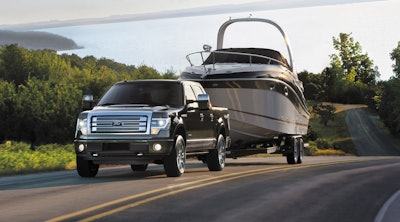 There's a lot of research that goes into buying a new vehicle. Today's truck buyers, for example, are a really savvy group that researches and compares, even within the same brand, before heading to the dealer.
The research aspect came to mind when I recently received an e-mail from a reader who is getting ready to buy a new F-150.
His specific question related to what axle ratio would be best for trailering a boat, while getting the best use of the 3.5L EcoBoost V6's torque.
"I use my truck on a daily basis, but on weekends, I use it to pull a fishing boat," says the reader. "Just trying to get the best torque possible with Ford's V6 engines."
He was also unsure as to what tire/wheel combo is best for the setup: 17s, 18s or 20s.
From my boat towing experience, and driving the EcoBoost F-150s, my suggestion is if the trailered weight is less than 4,000 pounds, 3.55 gears should work just fine. I'd go 3.73s if it's a heavier boat and/or you live in hilly/mountainous country.
Either ratio should have no issues getting a boat out of the water or towing with the larger of Ford's F-150 EcoBoost V6s.
If one just wants to get maximum pulling power and acceleration, then 3.73s in the F-150 would be my first choice.
I prefer 18s on wheels, but 20s look sharp. The biggest difference between the two is rim-to-ground distance; the more tire you have between the rim and the ground, the less you'll notice potholes and irregular pavement while driving as the tire serves as a shock absorber.
Of course, when you are buying a new pickup and plan on towing anything, having it equipped with the optional towing package is a must.