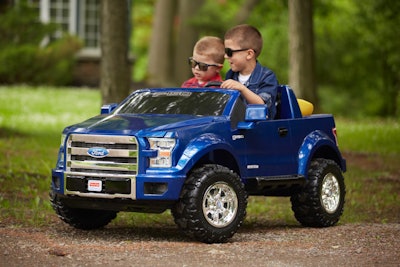 Ford pumps millions of marketing dollars into campaigns each year with the sole purpose of getting drivers behind the wheel of an F-150. However, their latest tactic gives new meaning to the phrase, "from the cradle to the grave."
You don't even need a driver's license to drive this new version of the F-150, but you do need your parent's permission to take it on the street.
This week, Ford unveiled – as part of a partnership with Fisher-Price – a Power Wheels F-150.
The children's ride-on toy, which retails for about $350, will go on sale in September and was inspired by the 2015 F-150. Ford engineers shared their designs nine months before the new truck debuted at the 2014 North American International Auto Show in Detroit.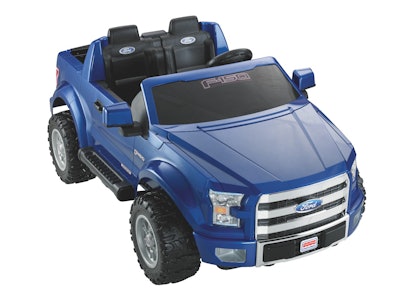 This is the third generation of ride on toys inspired by F-150 models and is expected to be the best-selling merchandise Ford sells. In 2013, Ford generated $2 billion in retail sales with 400 licensing agreements, covering everything from model cars, apparel, pinball machines, pool tables, Mustang cologne and power tools.
Just don't expect any test drive recaps from the Hard Working Trucks crew. I think we're all just a fudge over the weight limit on these bad boys.