With a new cargo van hitting the road in the coming months, Ford Motor Company is offering an exclusive opportunity for fleet owners, commercial customers and dealers to drive and learn about the all-new 2015 Ford Transit. The Transit will eventually replace Ford's E-Series van, America's best-selling van for 35 years.
The Truth About Transit Tour will visit 19 cities across the U.S. from June to October. Participants will test drive models on a closed course specially designed to let them evaluate Transit's technology, handling and versatility.
Tour participants can view upfit vehicles to envision how Ford Transit can be customized to fit their needs. Ford specialists also will be available to conduct personalized vehicle walk-around demonstrations at fleet and commercial customers' places of business.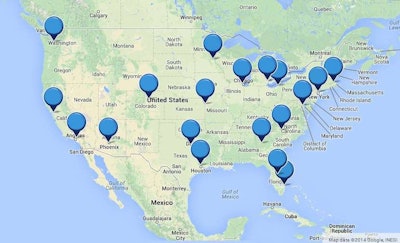 I'll be testing a Transit next week in Kansas City, where Transit is produced for the North American market at Ford's Kansas City Assembly Plant, so stay tuned for a drive test recap.
Registration and other details are available at www.fordtransittour.com for commercial business owners with fleets of one to 25 vehicles and www.fordtransittour/fleet for larger fleet customers.
Transit will be available in van, wagon, chassis cab and cutaway body styles; in three body lengths and two wheelbases for van and wagon, along with three roof heights; and in XL and XLT trim levels, offering more choices than ever from a Ford commercial vehicle.
Moving from an all-gasoline engine lineup of two V8s and a V10 in E-Series, Transit comes standard with a 3.7-liter inline-five and offers the Ford F-150 available 3.5-liter EcoBoost engine, along with a 3.2-liter Power Stroke diesel option. Each engine is paired with a six-speed automatic transmission for efficient rear-wheel-drive operation.