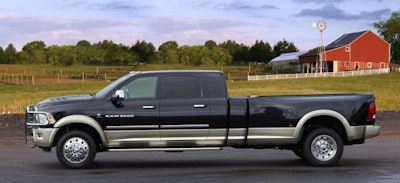 Ram Truck Pulls Back Curtain For Us To See The Future But Doesn't Turn On Any Lights
During the 2018 business plan presentations for Fiat Chrysler Automobiles (FCA) annual investor's meeting earlier this week in Auburn Hills, Mich., Reid Bigland, President and CEO of the company's Ram Truck Brand, shared the progress the brand has made over the past few years since it became a stand-alone brand in 2009.
From the FCA presentation it was clear the Ram Truck brand's goal of being the market leader of best-in-class fuel economy, power, payload and towing numbers was going to continue into the future.
No surprise as those elements are very near and dear to pickup owners whether recreational or work truck.
It was also no surprise that Bigland gave his competitors and Ram buyers a head's-up that the 1500s would see a "major update" in 2017 and the following year the HDs get their time in the spotlight.
So just what would be a "major update?" Well, that almost always entails a significant change in the grille, chassis and interior. Will we see a full-on adjustable air suspension as standard in the 2017-2018 trucks? I think that's a distinct possibility.
Better seats, more legroom and better use of interior space for cargo storage is also usually in the cards. Ram has been leading the way in cool storage ideas such as the Rambox. Wonder if they'll add under bed storage and a slide-out loading ramp in the 2017 1500s? That'd be slick.
I'd also say the odds are good Ram rolls out a production model of the 5500 Long Hauler as part of the 2018 HD update. It was a hit when they unveiled the concept truck in 2012 and would give them a decided advantage over everyone else in a truly big heavy-duty pickup.
But the biggest update I see coming will be in staying ahead of the competitors in fuel economy and power.
It's very possible that three years from now Ram Truck will be offering 10-speed automatics out of their Tipton, Ind. Transmission Plant mated to some CNG-injected diesel hybrid big-block from the VM Motori side of the world or, if relations stay strong, with Cummins.
Imagine a 600hp/1,000 lb.-ft. torque diesel/LPG or diesel/CNG hybrid that gets 30mpg on the road and 20mpg towing. The technology is there and who knows how advanced it'll be in another couple years. It's just a matter of how important those numbers are in Ram Truck's quest to remain best-in-class.
Add in start-stop technology, advanced cylinder deactivation, more advanced aerodynamics and you have the makings of some great fuel economy and power options.
Now figure in an all-aluminum body like the next generation F-150s. Saving weight increases fuel economy, increases payload and towing capacity. It's a triple bonus.
Ram is good at both and using aluminum and other light, strong materials would do just that.
During the FCA meeting an analyst asked about an aluminum-body pickup in 2017, to which FCA CEO Sergio Marchionne said, "We'll make the deadline. We can do aluminum in '17.We have the technology in-house."
I don't know what Ram Truck is planning. Auto manufacturers keep such "future product" plans close to the vest.
But you can bet I'll be paying very close attention to every concept pickup Ram Truck rolls out from now until the day we actually get to see the production 2017 Ram 1500 and 2018 Ram HDs. I'll also be watching what new diesel technology VM Motori and Cummins are playing with overseas. You should as well.
Exciting times ahead for sure.