Get off the phone!
New findings from a National Safety Council public opinion poll indicate 80 percent of drivers across America incorrectly believe that hands-free devices are safer than using a handheld phone.
And, in recognition of its April Distracted Driving Awareness Month campaign, the NSC would like for me to remind hard-working truck fleet managers and their drivers, please, to review your policies and training regarding in-cab communications.
More than 30 studies show hands-free devices are no safer than handheld ones, as the brain remains distracted by the cell phone conversation, NSC points out. Yet, of the poll participants who admitted to using hands-free devices, 70 percent said they do so for safety reasons.
"While many drivers honestly believe they are making the safe choice by using a hands-free device, it's just not true," says David Teater, senior director of Transportation Initiatives at the National Safety Council. "The problem is the brain does not truly multi-task. Just like you can't read a book and talk on the phone, you can't safely operate a vehicle and talk on the phone. With some state laws focusing on handheld bans and carmakers putting hands-free technology in vehicles, no wonder people are confused."
Currently, no state or municipality has passed a law banning hands-free use, but 12 states and the District of Columbia have passed laws banning handheld cell phone use while driving.
Further, an increasing amount of vehicles are now equipped with dashboard infotainment or navigation systems that allow drivers to make hands-free calls as well as send text messages and update social media statuses – or, rather, crew status, right boss? No tweets on the job, of course. Anyway, the NSC poll found that 53 percent of respondents believe hands-free devices must be safe to use if they are built into vehicles.
So check with your nav/telematics provider to make sure the latest, greatest productivity device isn't a distraction. You might want check with your insurance provider or professional association about industry best practices, if you haven't already.
And have a look at the NSC poster: Print it and pin it up in the break room, hand it out at the next safety meeting, or circulate a copy with your next company newsletter.
Everyone needs a reminder now and again.
(As an aside for skeptics: yes, you might have an argument.
In another study, researchers cast some doubts on the conventional wisdom, according to a post on ScienceBlog.
"Using a cellphone while driving may be distracting, but it does not lead to higher crash risk in the setting we examined," said Saurabh Bhargava, assistant professor of social and decision sciences in Carnegie Mellon's Dietrich College of Humanities and Social Sciences. "While our findings may strike many as counterintuitive, our results are precise enough to statistically call into question the effects typically found in the academic literature."
Similarly, there's no evidence that laws prohibiting cell phone use by drivers have had an impact on safety.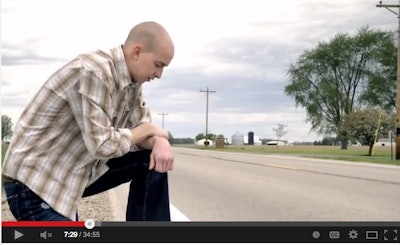 For a counter counter-argument, however, AT&T sponsored a powerful 35-minute documentary by director Werner Herzog about the human toll of texting while driving.
If you watch that and still want to tell me you're perfectly capable of handling a smartphone while driving (and that you believe everyone else on the road must be, as well) feel free — just don't call or add a comment from the behind the wheel.
Please.)