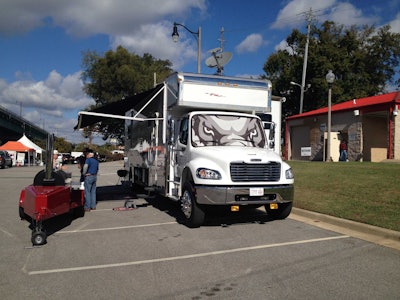 When Kelly Estes tailgates, he's serious.
The owner of Estes Automotive in Birmingham, Ala. is fairly easy to spot in his 30-plus feet long Freightliner recreational vehicle.
When he's towing a bright red customized barbecue smoker, he's hard to miss.
Estes is the proud owner of a 2006 Freightliner truck, powered by a CAT C7 330 horsepower engine and automatic Allison transmission that sleeps six.
Estes, who has built a substantial automotive and truck repair empire in Alabama, has a "Hard Playing Truck" outfitted like a small rolling island. With a powerful generator, satellite television, central heat and cooling and 200 gallons of fresh water on board, Estes can do some major tailgating with no electrical or water hookups in sight.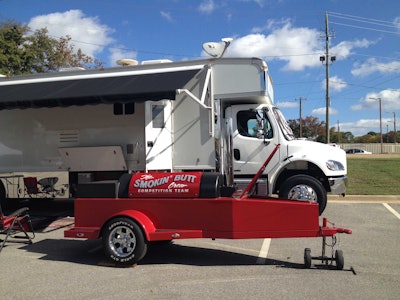 Generally used to support the Alabama Crimson Tide on game days, Estes is also a competitive barbecuer. And he and his father have driven the unit as far away as Las Vegas to compete.
"We spent $2,500 just in diesel fuel that trip," he recalled with a chuckle. "We caught diesel when it was at its peak – something like $4.25 a gallon."
The rolling house measures 28 feet from the cab back and tips the scales at 25,900 pounds – a mere 100 pounds beneath the weight requirement for a Commercial Drivers License.
All those creature comforts pay dividends, too.
Saturday, Estes' barbecue team won first place at an event in Tuscaloosa, Ala., and the team's total prize money take was nearly enough to finance another trip to Las Vegas.