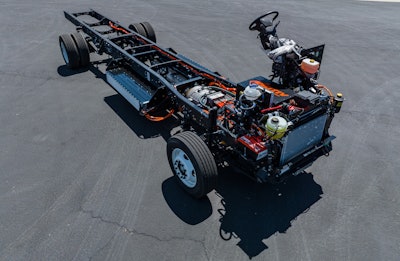 Electric truck manufacturer Motiv Power Systems last week announced its next-generation electric trucks for medium-duty fleets.
Motiv is a 14-year veteran providing all-electric step vans, box trucks and shuttle buses capable of moving 2-6 ton payloads. The company has deployed more than 150 vehicles and driven more than 2.5 million miles with fleets across North America.
Motiv's new trucks build on the company's previous generations and are engineered to meet today's fleet needs while embracing the latest EV technology, including a new motor and a new battery system – all assembled with a far more efficient powertrain design with fewer parts.
Motiv worked with Nidec to design and patent a six-phase motor and motor controller producing torque that surpasses internal combustion engine counterparts. Motiv also co-developed and has patents pending for its battery interface to the new battery system, capable of reaching a 200-mile range on a single charge. The base version is rated at 150 miles range.
"Motiv's new technology platform tackles key barriers to electrifying a commercial fleet: payload confidence, range anxiety and serviceability concerns. And we've done so in collaboration with our customers," said Tim Krauskopf, CEO of Motiv Power Systems. "The driver holding the wheel every day is our target – and our success at getting them to advocate for Motiv's EV's is the best validation for adoption."
Motiv's next generation of vehicles are currently available for purchase and the first customer shipments will roll out in June.