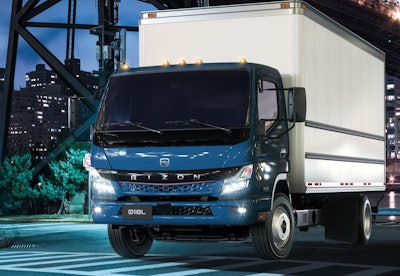 Daimler Truck Thursday evening unveiled its new zero emission truck brand, Rizon. The new lineup of Class 4/5 medium-duty electric cabover trucks joins in North America the Class 6/7 Freightliner eM2 and Class 8 eCascadia. Rizon is Daimler Truck's ninth brand.
"This region (the U.S.) has immense potential as a market for electric vehicles," Daimler Truck President and CEO Karl Deppen said, noting the company has already amassed a wealth of data from electric trucks currently in operation, and used that to refine Rizon's vertically integrated battery electric powertrain. "We are confident this brand will resonate with our loyal customer base and attract new ones."
[Related: California mandates electric trucks]
The Class 4/5 Rizon truck will initially be available in three models (and in 175- and 187-inch wheelbases): the e18L, e16L and the e16M. Powered by an eAxle, models will feature a range of between 75 and 160 miles depending on battery spec (110 to 160 miles for L models with 3 battery packs and 75 to 110 miles for M models with 2 battery packs). Rizon's lithium iron phosphate batteries are capable of Level 2 AC Charging (J1772) and DC Fast Charging (CCS1).
Andreas Deuschle, global head of Rizon Truck, said the structure of the chassis is body builder friendly and each model will feature the same safety systems available in the company's comparable diesel models, like lane departure warning, automatic braking and anti-lock brakes, among others.
The trucks will initially target businesses in urban retail logistics, last-mile delivery and municipal work and will be distributed exclusively through Velocity Vehicle Group – a California-based group with more than 80 Daimler Truck dealerships in eight states that will also offer maintenance, consultation on charging and financing through Daimler Truck Financial Services.
Brad Fauvre, president and co-founder of Velocity Vehicle Group, said the Rizon truck is available to order as of now, and deliveries will begin late this year. Fauvre said sales would begin in Southern California before expanding in the southeast and southwest. Velocity will appoint other dealership groups outside its own footprint to the Rizon brand in CARB opt-in states, and states that offer EV incentives.
Rizon will carry a warranty package that protects the powertrain, chassis and cab for 5 years/75,000 miles and the high voltage batteries for 5 years/120,000 miles.
Daimler Truck's goal is to offer only new vehicles that are CO2-neutral in driving operation in Europe, North America and Japan by 2039.
[WATCH: What California's new zero-emission requirements mean for smaller fleets]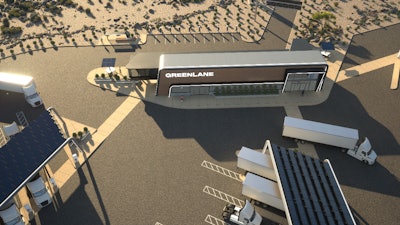 Also Thursday, Daimler Truck North America, in partnership with NextEra Energy Resources and BlackRock Alternatives, announced Greenlane, a more $650 million joint venture to design, develop, install and operate a U.S. nationwide, high-performance zero-emission public charging and hydrogen fueling network for medium- and heavy-duty battery-electric and hydrogen fuel cell vehicles. The network of charging sites will be built on freight routes along the east and west coasts and in Texas.