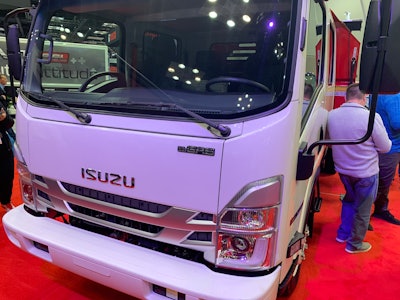 Isuzu kicked off limited production of its Class 5 gasoline-powered trucks in 2021, but this week at Work Truck Week in Indianapolis Isuzu Commercial Truck of America and Isuzu Commercial Truck of Canada President Shaun Skinner said the company was full steam ahead, proclaiming "the Class 5 gas truck is back."
The initial launch of the Class 5 gas truck was equipped with a 6.0-liter V8 certified and supplied by Power Solutions International, a model built from a customized Vortec V8 block that produces 311 hp and 351 lb.-ft. of torque. Going forward these trucks will get a 6.6-liter General Motors engine that puts out 350 hp and 425 lb.-ft. of torque.
Skinner said the PSI engine served as a suitable stop gap as Isuzu launched its Class 5 gas N-Series, adding the 6.6-liter NQR and NRR will be available later this year.