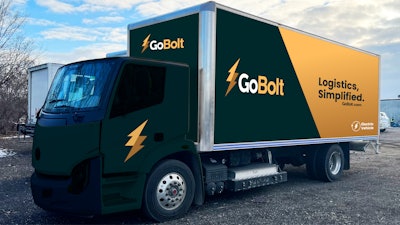 GoBolt
A Canadian third-party logistics company that recently expanded into the U.S. has big goals to improve the American supply chain and to do so sustainably by reaching 12.75 million households with electric vehicles.
The company will forward place product on a just-in-time basis to ensure it gets to the customer in a timeframe that meets their expectations. What that looks like is a sofa stored in Houston gets forward placed the minute the order is received from a shopper living in New York, who then receives real-time tracking throughout shipment and can select a delivery date and time that works for them.
That's the goal for Toronto-based tech-enabled fulfillment and logistics company GoBolt, which has made its first foray into the U.S. with a headquarters in New Jersey. The company is also operational in Los Angeles, while working on opening operations in Houston and Miami with Dallas, Austin and Atlanta to follow.
Mark Ang, GoBolt co-founder and CEO, said the goal is to eventually be in every major city in every U.S. state.
"That gets bigger and better exponentially if we have more nodes in the network lit up because what we're finding is that we're doing such a good job in the markets that we do serve that our merchants want us in all the other markets that they're in," Ang said. "It's all about … which market make the most sense for our merchants, their shopper and for GoBolt. That's kind of what we're doing in the background, but the network gets exponentially better as you add more nodes into it because those nodes turn on as available last-mile hubs, which you can connect other fulfillment centers to. That's how we think about the network getting better over time, and it's one that we want to operate first party so that the quality level maintains."
GoBolt has already been supporting U.S. and international brands with its services in Canada, and Ang said the expansion comes as an answer to those brands' call for the company to replicate its model in the U.S. GoBolt's U.S. network was based around those brands' needed services, but there is ripe opportunity for further growth in the market, he said, as there are many single-point models in the U.S. that offer warehousing, fulfillment, freight, last-mile delivery and more, but not as many that provide all of those services under one company.
Popular retailer American Eagle purchased third-party logistics company Quiet Logistics and delivery startup AirTerra last year as part of its goal to transform its supply chain, saying a reliable and consistent in-market fulfillment network is vital in today's marketplace. Ang said those transactions are telling of how America's fulfillment space and supply chain is broken as companies are unable to find a reliable, quality 3PL partner to fulfill their needs.
"That's why we're so obsessed with doing everything first-party because only then do we feel like we can make bold commitments to our merchants and their shoppers and maintain it," Ang said. "It's why our software is built in house; it's why our warehouse associates are fully benefitted and employed; it's why our drivers are fully benefitted and employed by GoBolt from top to bottom."
GoBolt provides warehousing, pick-and-pack, shipping and last-mile delivery without outsourcing, and it does so with electric electric cargo vans and box trucks. The company works with shipping partners that include USPS, Freightcom, DHL, Swyft, Canpar, UPS, FedEx and Canada Post and ecommerce partners that include Shopify, Fulfil.io, WooCommerce and Shipstation, according to its website.
Ang said the company operates as an extension of its merchants as if its part of their in-house teams, whereas a lot of 3PLs in the U.S. are all about their bottom lines and how to drive cost efficiency.
"Logistics has always been of paramount importance for our customer experience. GoBolt has been able to take the level of service we require and make it more streamlined under one ecosystem for the markets we engage in together," Art Lee, CEO of furniture company Rove Concepts, said in a news release. "The fact the company is expanding its electric vehicle fleet and expanding into the U.S. is exciting for us because it creates even more alignment for us to utilize their network and allows our teams to focus even more on designing and delivering the best product collections for our clients."
GoBolt touts one of the biggest electric fleets in Canada, and plans to carry that reputation with its expansion as a North American provider.
Ang said the company has placed an order for 170 electric vehicles – 70 Transit vans and 100 3- and 5-ton trucks – for the U.S. market. The company is investing in charging infrastructure at each of its sites as the U.S.'s current infrastructure is minimal, and until the company grows to reach each state, Ang said it will purchase carbon offsets and credits to ensure it maintains neutrality with emissions.
"We really hope that the industry will see that it's a viable solution and can start following suit because the goal is to provide a more sustainable logistics system, not just one that we provide exclusively," Ang said. "As a modern brand and a modern fulfillment partner the idea of us becoming a bigger emitter of carbon emissions as we got bigger and more successful, hopefully, didn't feel right."
And he said it makes for better brand affinity with shoppers – 80% of whom consider the environmental impact of a purchase – and fuel surcharges for merchants go away.
"The goal is to expand the network so that there are more nodes in our first-party network so that our merchants and their shoppers can get their products delivered faster," he said. "A secondary goal is … to make it fully electric by the end of 2023 for our primary market areas, and we want to continue that in the U.S .as well. We're finding that there's a pretty big shift among enterprise brands to not just procure and source their products sustainably but align with partners through the entire supply chain that can support a sustainable mission."
GoBolt said the U.S. is the first of many expansions as it is eyeing future expansion into the UK, Australia and other locations. The company raised $92.3 million USD in Series B financing last year to support its growth.