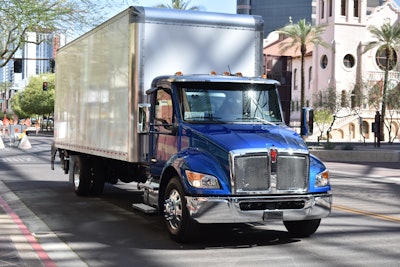 Kenworth hit a record 11.7% retail sales market share last year for medium duty vehicles in the U.S. and Canada. That number could grow quickly from events that began five years ago when Kenworth started the process of redesigning its Class 5-7 vehicle lineup.
On Wednesday, April 1, Kenworth rolled out production versions of an all-new lineup in Phoenix for a ride-and-drive before making an official public introduction Monday.
Kenworth's new designs were drawn up from extensive customer and driver feedback. The production-ready versions are purposefully built to more fully address the critical market needs of buyers and drivers of medium-duty trucks.
Unlike the Class 8 market, businesses that use medium-duty vehicles do not press them into service to turn miles on the highway. The trucks are a means to an end for business owners, who would buy a Class 5 truck, for example, with specific vocational applications in mind, such as landscaping. Mostly non-CDL drivers use the trucks to bring supplies and equipment to job sites where the real work begins.
"Many of our customers refer to their delivery drivers as sales associates, which shows the true focus of their responsibilities. Our goal was to make these trucks as approachable, intuitive and as easy to operate as a pickup truck," said Jonathan Duncan, Kenworth design director.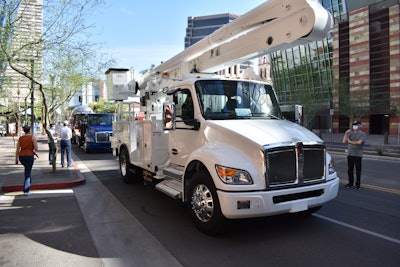 Kenworth's largest concentration of buyers in medium-duty has traditionally been Class 7. This allowed the company to streamline production by carrying over the same cab used for its higher volume Class 8 sales. As part of the redesign, the company wanted to extend its reach and bring up sales of Class 5-7 trucks.
[Related: Kenworth T680 gets technology, aero makeover]
One of Kenworth's first steps was to expand its customer council, which reflected a heavy dose of Class 8 and Class 7 customers. The OEM also spent an entire year meeting with nearly 1,000 drivers and medium-duty customers, as well as truck bodybuilders, to gather marketing and engineering requirements.
One of the must-haves was a more spacious cab that fit lower on the chassis. The cab also had to be offered in different height configurations so that the roof line could accommodate more applications. Utility trucks and car haulers, for example, need lower roof lines to fit hydraulic booms and cabover racks.
Also on the must-have list was cab configurations that seat three people as well as better visibility and driver-focused ergonomics, explained Kevin Baney, Kenworth general manager and Paccar vice president.
As the redesign advanced, Kenworth had more than 500 people participate in design studies to define the dimensions and fine-tune ergonomics. The new cab and other vehicle assemblies are purpose built at Kenworth's medium-duty plant in Ste. Therese, Ontario, Canada.
New models, explained
The full lineup of new medium-duty models are the Kenworth T180 (Class 5), Kenworth T280 (Class 6), Kenworth T380 (Class 7) and Kenworth T480 (light Class 8). Each of these vehicles is designed to be upfitted with bodies for applications such as cargo and reefer van, beverage, tow and recovery, utility and government, fuel oil and propane, landscaping, fire and dump and mixer.
Kenworth checked off all of the must-haves for the redesign. The 2.1-meter cab is 8-inches wider than the previous version and sits up to 2-inches lower on the frame, depending upon configuration.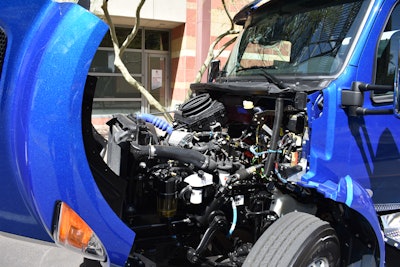 The low cab benefits inner-city drivers the most. During research, the company's marketing and engineering teams found that drivers for medium-duty fleets may climb in and out of their truck up to 60 times daily. When multiplied by the number of cab entries and exits over the course of weeks, months or years, two inches makes a difference.
The trucks also have configurable roof options. Customers can spec trucks with either a standard low roof or a raised roof. For height-restricted applications, the low roof is 63 inches tall – 4 inches shorter than the raised roof.
Kenworth offers a three-person bench seating option as standard for the T180, T280 and T380 models, and makes it optional for the T480. Customers also can select various seating options featuring high- or medium-back seats for a comfortable ride. The new cab construction also reduces interior noise by up to 50%.
[Related: Kenworth, Peterbilt feel pangs of semiconductor shortage]
All cabs come with a larger front windshield that enhances visibility by nearly 17%. This is aided by the hood's steeper slope compared to previous Kenworth medium duty models, and by three different configurations based on bumper to back of cab (BBC) measurements. The BBC measurement helps define the placement of the front axle, which is a key function of maneuverability, Baney said.
For the T480, the new cab position has a BBC that is 8 inches shorter than the T470 it replaces. Shorter BBCs also produce shorter wheelbases for a tighter turning radius and enhanced maneuverability for urban or vocational operating environments.
All vehicles get a new wheel cut angle for a shorter turning radius and have a maximum axle capability that is 50 degrees (standard track) and 55 degrees (wide track). The axles are compatible with a wide range of tire sizes (225/70R19.5 – 425/65R22.5). Lighter weight mono-leaf front springs (8K lbs., 10K lbs. and 12K lbs.) are available.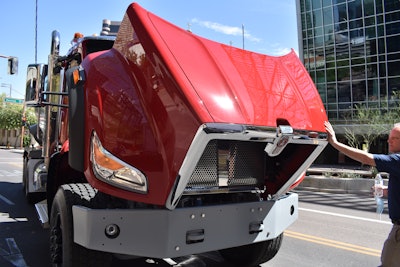 The new trucks have three hood types to support different applications. One is a short aero hood (107.5-inch BBC) that accommodates front axles from 8K to 20K lbs.; the medium aero hood (109.5-inch BBC) is for higher horsepower and AWD applications; and Kenworth's vocational sloped hood is available for the T380V and T480V.
For customers that need full parent rails to attach a snowplow, a front-mounted power takeoff, crane outriggers and other fixtures located in front of the hood, Kenworth has fixed grille options in the Kenworth T380V and Kenworth T480V. The grille is mounted to the cooling module.
Powertrain options
All four of Kenworth's new medium duty vehicles are available with the model year 2021 PX-7 engine, which is rated up to 325 horsepower, and PX-9 engine, featuring up to 380 horsepower.
With the introduction of the new medium duty vehicles, Kenworth offers — for the first time — the near-zero emission Cummins Westport L9N natural gas engine, which delivers 320 horsepower.
Kenworth has made the new Paccar TX-8 automatic transmission standard for the Kenworth T180, T280, T380 and T480.
Other updates related to the powertrain include redesigned DEF tanks that provide improved thawing time to reduce emissions and help increase fuel economy. The models have various DEF options for body types. Exhaust options include right-hand, under cab DPF/SCR for better cab access via a robust step and cover design.
A look inside the cab
The new medium-duty line has an interior that resembles a modern passenger vehicle with a cabin climate system with automatic temperature control. The controls replace the previous slider bars that were attached to cables. The user can now select temperature with a dial.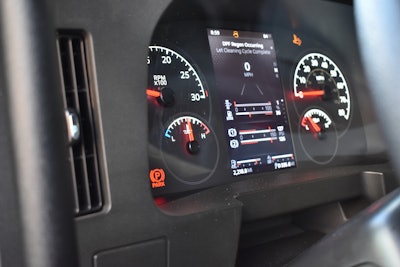 The dashboard has flexible configurations, including a section on the right-hand side where customers are able to specify single and dual RAM mounts for tablets. The dash also has cutouts for up to 6 additional gauges and 11 optional switches.
The placement of the dash sits a few inches lower than the dash in Kenworth's previous medium duty models to enhance visibility through the lower windshield.
Kenworth developed a new instrumentation cluster with a 7-inch high-definition Digital Display. The display is centered between four standard analog gauges — speed, tachometer, oil pressure and coolant temp. Drivers can display several "virtual tell-tales" at a time and choose from 20 options that match their preferences.
The display also integrates advanced driver assistance (ADAS) features when specified on the truck.
As part of the update, Kenworth has an optional SmartWheel that features steering wheel controls for its Digital Display. The SmartWheel provides automotive-level functionality with scroll input for quick fingertip control. Additionally, the trucks have a steering column with full-tilt and telescopic position, self-canceling turn signals and a column-mounted shifter.
Streamlining truck orders
As part of the medium-duty redesign, Kenworth also re-engineered the ordering process and aftermarket support system for customers.
The company's new ordering process lets customers work with dealers to configure wheelbases in one-inch increments. Once a configuration is made, the order goes to Kenworth to generate a 3D frame layout. This process automates component placement on the chassis. The frame layout is returned to the dealer for the customer's final approval.
This process takes about two weeks, Baney said. Kenworth has the same level of support and design integration with bodybuilders. This ensures that every frame rail that comes through its factory has all of the holes needed by bodybuilders in the right places.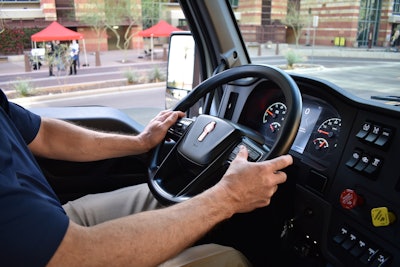 During the market research process, customers told Kenworth the company was doing really well in helping them spec and build trucks, but they wanted more support throughout the year to answer questions and fine-tune vehicle performance.
Kenworth responded by creating a team with about 12 people assigned to different fleets to provide customers help throughout the year and conduct quarterly business reviews, Baney said.
Drive impressions
I had an opportunity to drive the T180 and T280 (in box van and water tank configurations) on identical routes in Phoenix during the ride-and-drive, none of which required a CDL.
When stepping into the cab, all of the dash controls are intuitive, with the ambiance of a passenger vehicle. For instance, the controls for the marker lights, headlights and hazard lights are on a dial located on the bottom left-side of the dash, just as you would expect to find in a pickup truck.
The highlight of the test drive was the comfort of the air-ride cabs and the smooth shifting of the new TX-8 transmission. The TX-8 has an integrated right-hand, column-mounted shifter to select from the standard "R" "N" and "D" options. It also has an "M" for manual mode.
Under full throttle the shifting felt effortless with virtually no discernible drop-off in torque and speed between gears. The shifting is comparable to passenger vehicles I've driven with a dual clutch transmission. Kenworth said the smoother shifts are enabled by the transmission using twin torsional dampers.
When matched to the PX-7 or PX-9 engine, the transmission has a maximum torque rating up 1,000 lb.-ft. of torque and a 57,000-lb. GCWR.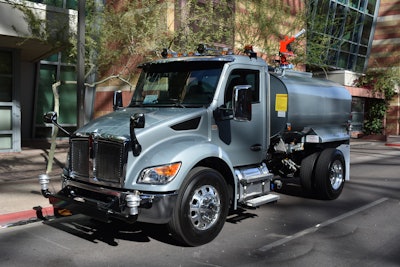 "The Paccar TX-8 is a new transmission that will enhance the performance of our new Kenworth medium duty lineup," said Laura Bloch, Kenworth assistant general manager for sales and marketing. "In addition to its light weight, this transmission maintains excellent torque capacity to allow our customers to handle more payload with greater efficiency. The Paccar TX-8 also provides up to a 15% improvement in acceleration over comparable transmissions."
More than 90% of Kenworth medium duty trucks are ordered with an automatic transmission, she said. Depending upon the application, the TX-8 can improve fuel economy by up to 5% by sensing the road grade, vehicle acceleration, torque demand, weight and engine load to "keep the truck in the most fuel-efficient gear possible," she said.
All of the trucks in the test drive were equipped with the Bendix Wingman system that provided ADAS warnings for lane departure, unsafe following distance and blind-spot detection. Getting used to the warning beeps the system gives would take longer than a single test drive.
Some warnings, like lane departure, are integrated into the dash display and the audible signals come from the speakers on the left or right side of the cab, depending on which line you cross.
Overall, the research that Kenworth did to understand the medium-duty market to enhance safety, fuel efficiency, and driver comfort show through in the new lineup.