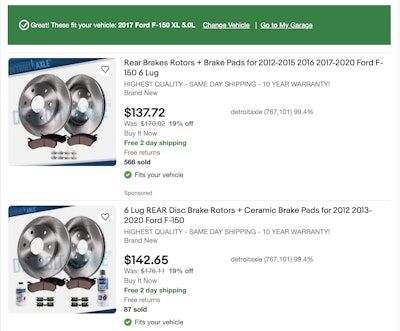 Widespread component shortages have sent drivers and operators of fleet equipment to the farthest reaches of the parts counter in search of replacement parts to get cars and trucks back on the road.
Finding dead end after dead end in traditional retail and aftermarket channels, consumers have increasingly turned to ecommerce platforms, including Amazon and eBay, in their quest for parts. The automotive aftermarket raked in $16 billion through ecommerce in 2020, and auto parts ecommerce market share is projected at over $22 billion by 2023, according to Hedges and Company.
Three parts or accessories are sold every second on the eBay Motors marketplace in the U.S. alone, and one out of every three global eBay shoppers buys parts and accessories.
"The last few years undoubtedly drove a shift toward ecommerce in the automotive space due to brick-and-mortar closures, scarcity and inflation," an eBay motors spokesperson told Hard Working Trucks. "[During] Q3 of 2022 alone, sales for common DIY and maintenance items surged: Parking assistance parts saw triple-digit growth while sales for cruise control components, wiring harnesses, transmission rebuild kits, engine computers, and brake discs saw double-digit growth."
eBay Motors this week launched its eBay Guaranteed Fit program, giving users increased confidence when buying and selling on the marketplace. Shoppers can now look for a green 'Fits' compatibility checkmark on select parts and accessories listings to gauge whether the part will fit their vehicle. If the part arrives and doesn't fit as expected, eBay Motors will cover the cost of the return and the buyer will receive a full refund.
The launch of eBay Guaranteed Fit joins other consumer confidence initiatives on the platform, like an Authenticity Guarantee for sneakers, handbags, jewelry and trading cards, and the expansion of condition grading for eBay Refurbished.
eBay Motors Vice President Chris Prill said people are buying and selling parts online like never before, and eBay Guaranteed Fit helps take the guesswork out of the shopping experience.
"Accurate fitment is critical to completing a project, from simple repairs to major modifications," he said. "With today's launch, eBay Motors is empowering shoppers to browse and buy the millions of parts and accessories on the marketplace with that crucial added assurance."
How it works

Fitment issues arise when a part or accessory is not compatible with the vehicle for which it was purchased, and without the ability to compare side-by-side buying online puts the consumer in a "sight unseen" buying proposition.
eBay Motors seeks to remove some of that guesswork by taking a parts counter approach to which parts it displays to would-be buyers.
Shoppers enter vehicle year, make, model, trim and engine information into Finder, or select the vehicle saved in My Garage to search for new and used parts. eBay Motors verifies that the vehicle details match the part compatibility information within the listing and when there is a match, fit is confirmed with a green 'Fits' checkmark on the listing.
When shoppers purchase an eligible part or accessory, they can be sure it will fit their vehicle (some exclusions apply, including tires and wheels) and if the part or accessory does not fit the buyer's vehicle upon arrival, it can be returned for free within 30 days for a full refund.
eBay Guaranteed Fit currently only applies to vehicle parts and accessories listings contained within the Car & Truck Parts and Motorcycle Parts categories. The Commercial Truck Parts, B&I and Heavy Equipment categories are not covered at this time.
eBay Guaranteed Fit specifically addresses only fitment challenges. For parts that arrive faulty, damaged or not as described in the listing, shoppers can access eBay's Money Back Guarantee for eligible purchases to get a refund. Some sellers also offer warranties and protections for their items, and shoppers are encouraged to explore those options as well if they encounter quality or condition concerns.