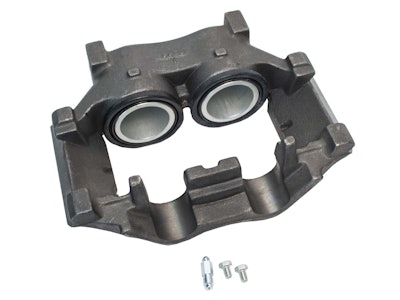 The following was published in CCJ's Air Brake Book, 11th edition, sponsored by SilverbackHD. CCJ's Air Brake Book is a complementary industry resource, courtesy of our partnership with SilverbackHD, the Technology and Maintenance Council and Commercial Vehicle Safety Alliance. You can download the entire Air Brake Book here.
Caliper pistons that are not returning properly, or appear to be seized in the bore, can be caused by residual hydraulic pressure keeping the piston applied.
The troublesome units should be inspected for twisted or restricted brake hoses; cracked or otherwise damaged steel brake lines; improper adjustment of the master cylinder push rod; improper adjustment of the power brake booster pedal rod; and defects in the master cylinder or proportioning valve.
SilverbackHD recommends installing and bleeding the replacement caliper. If the piston does not return properly or is seized, open the bleeder valve and recheck. The caliper is working correctly if the piston releases.
Uneven or accelerated pad wear can be caused by a defective caliper, although defective mounting hardware or incorrect installation may be the actual problem.
If the caliper slides, or mounting pins are not functioning properly, it will cause outboard pad wear. If the caliper bushings are worn or the mounting hardware is defective, it will cause horizontal or vertical tapered wear. If the mounting hardware, brake hoses or brake pedal are faulty, or there is booster misadjustment, excessive heat will build up from constant friction. This causes cracked lining, chipped edges or short life.
Rotors should be replaced or turned if there are grooves in the friction surface.
If pads are improperly installed it will cause a step in the lining, so SilverbackHD recommends checking installation and looking for defective mounting hardware, replacing if necessary.