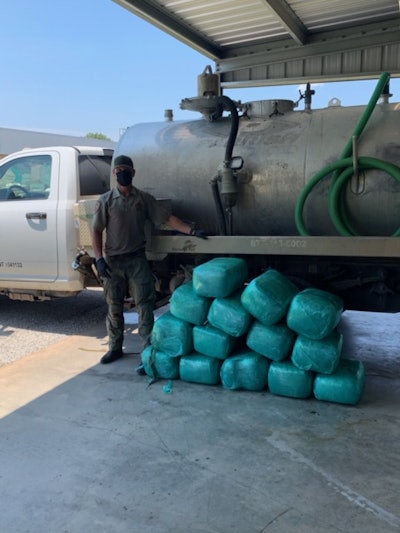 Where's Mike Rowe when you need him?
The Fayette County Sheriff's Office in La Grange, Texas recently had the onerous and heroic task of retrieving several bundles of marijuana out of the tank of a sewage truck.
The pungent and unforgettable bust began after Drug Interdiction Investigator David Smith pulled the 2014 Ram over on Interstate 10 near Flatonia last Thursday according to the sheriff's office Facebook page.
Smith noted that the driver, 45-year-old Stephanie Navejar and passenger, 53-year-old Jorge Sanchez, were both "very nervous" and not without reason: Navejar "did not have a driver's license," Sanchez didn't appear to know where they were going (that uncertainty was soon alleviated) and then, perhaps feeling the need to just get it over with or perhaps hoping that Smith would not probe the truck's nether regions, consent was given to search the vehicle.
The dedicated Smith wasted no time in lifting the lid of the poop wagon where he found multiple bundles "wrapped in plastic cellphone, axle grease and tape" which contained 350 pounds of marijuana. Thankfully, Smith had some help from Flatonia Police Sgt. Mark Pritchard, though it's not clear who did the bulk of the dirty work.
Navejar and Sanchez, both of Cotualla Texas, were arrested and charged with felony possession of marijuana. As for us, it'll be hard to look at a sewage truck the same way again though we'll certainly try with a palette-cleansing picture of Dr. Pumper below.