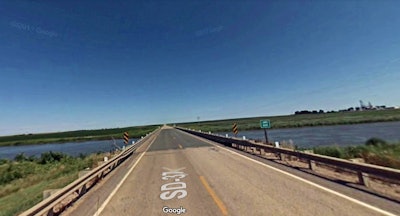 The bodies of two missing South Dakota refuse truck workers were discovered inside their submerged trash truck which was pulled Sunday from the James River in Huron north of Sioux Falls.
An initial investigation has shown that the 2000 Mack CH600 may have had an equipment failure causing it to veer off northbound Highway 37 and crash through a guardrail into the river.
The 2000 Mack CH has had seven recalls, five of which involve tie rod, accelerator and brake-related issues that NHTSA warned could lead to a possible crash. It's unknown at this time if any of those recalls are related to the crash.
The men, ages 61 and 46, were reported missing by their families on Thursday. Neither the men nor the company they worked for were identified.
"Based on the initial evidence, investigators believe there may have been an equipment failure," said Tony Mangan, public information officer with the South Dakota Department of Public Safety. "The vehicle went through the guardrail and vaulted an embankment, ending in the James River."
There is a downhill grade leading to the river but it's unclear how steep that decline is. Photos from Google Earth reveal wide-open ranch land on either side of the highway leading down to the bridge.
Recent flooding in the area made search and recovery efforts difficult. The road was not flooded, according to Mangan.