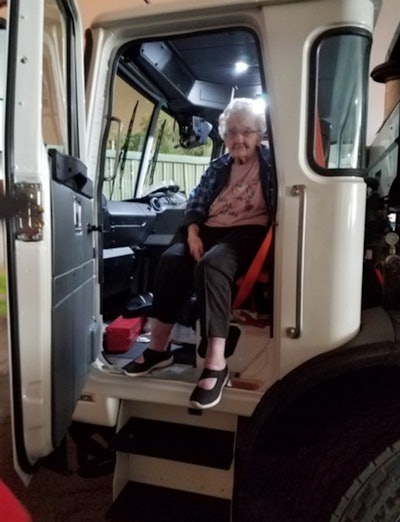 Truck drivers see a lot on the road and sometimes find themselves playing the role of hero to someone in need.
That was the case recently for Waste Management driver Dane Cummings who while driving his route in Magalia, Calif. decided to go the extra mile, so to speak, and be on the lookout for his elderly customers shortly after an evacuation order had been given for the historic and deadly Camp Fire.
Sure enough, Cummings came across 93-year-old Margaret Newsum who he's known for eight years. She was standing on her front lawn when Cummings drove up. Her caretaker had left earlier that morning.
"I decided that we were gonna get her out of there," Cummings told TODAY. "I don't know that much about fires, but I knew if that fire came over that hill they were in trouble."
Cummings drove Newsum to safety. But instead of dropping her off at a shelter, Cummings took her to lifelong friend and Waste Management mechanic Brian Harrison who invited her into his home to stay with him and his family.
"I have felt so welcome in this house," said Newsum who doesn't have any family in the area. "Things may not work in the way you want, but you have to have faith, and get good friends. They're such wonderful people."