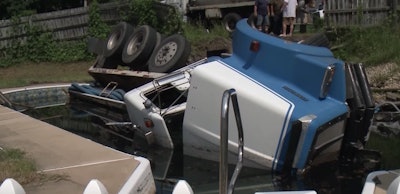 What's the worst thing that could happen to a pool? How about a septic truck crashing right smack in the middle of it.
No joke. Today in Conestoga Township, Penn., which is roughly 80 miles west of Philadelphia, a septic truck filled at 75 percent capacity ran off the road and right into a nearby pool.
No one was injured, according to abc27.com. However, when asked about the stench, Connestoga Volunteer Fire Company Chief Larry Frankford said, "You can just your imagination."
The driver reportedly lost control of the truck while trying to avoid a road closure.