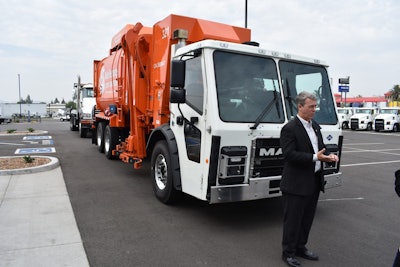 Much of the freight coming in and leaving from the ports of Los Angeles and Long Beach moves through warehouses and logistics facilities near Interstate 10 in a region east of the Los Angeles basin called the Inland Empire.
San Bernardino county is the Empire's epicenter of trucking activity. More heavy-duty trucks are registered here than anywhere in the United States.
Many of the registered trucks are utilized for waste and refuse applications as the greater Los Angeles area is the second-largest metropolitan center in the U.S.
On Wed., July 18, representatives from Mack Trucks held a press event at a large dealership in the Inland Empire–in Fontana, to be exact–to announce a new connectivity option for its cab-over-engine (COE) and highway straight trucks. The trucks can be factory pre-wired for the Lytx video telematics platform.
The prewire will virtually eliminate installation time of the Lytx platform by fleets.
An expanding market
The new factory option is available for three Mack Truck models used in waste and refuse applications. The TeraPro and Mack LR are COE trucks can be upfitted by body builders with front and side-loading refuse equipment. The Granite is a highway straight truck that can be upfitted with rear-loading containers and dump bodies.
Earlier this year, Mack introduced an over-the-road tractor model, the Anthem, with 70-inch and 48-inch sleeper options. The Lytx pre-wire option for Anthem has not yet been announced.
With the Anthem, Mack is in a great position to continue climbing in the over-the-road market while still maintaining a strong position in the refuse industry as the number one provider of COE and straight trucks, said John Randall, senior vice president of North American sales and marketing for Mack and Volvo.
The truck market is "about as strong as we've ever seen in the last few decades," he said, and forecasted that new truck builds will hit 300,000 this year and be equally as robust in 2019.
"We are gearing up for that and are looking forward to taking advantage of that," he said.
Ready for service
Lytx has a large presence in the waste industry with customers that include Waste Management, Waste Connections and Waste Industries.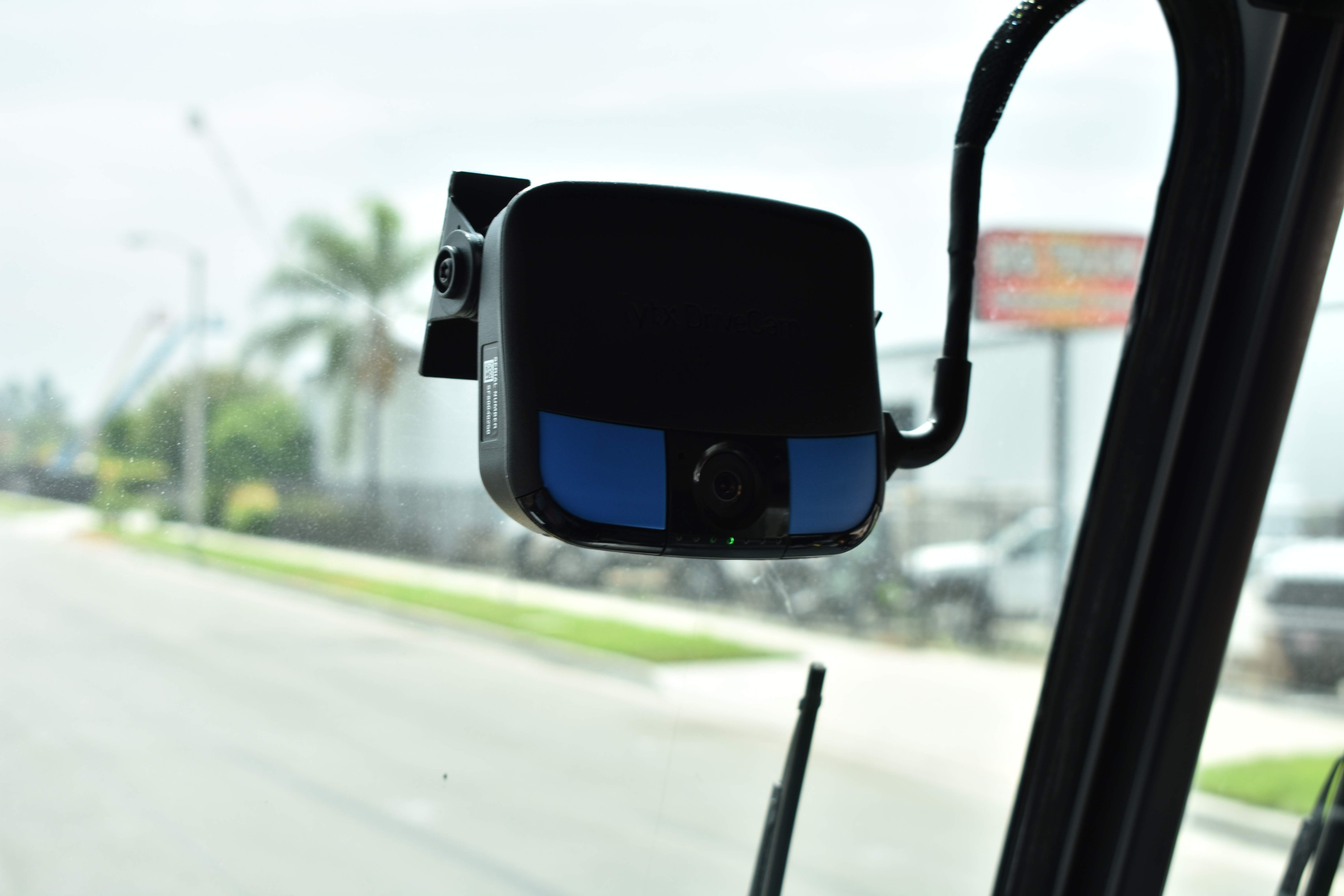 Having a large and ever-expanding database of risky driving events and behaviors helps Lytx continuously improve its machine vision technology and scoring of risky behaviors and events inside and outside the cab, said Kristin Costas, director of product management. To date the company's technology has captured 16.1 million risky behaviors and 6.9 million risky video event records.
Identifying risky behaviors and recording the events on video "allows our customers to have meaningful conversations with drivers," she said, by using the online platform's coaching workflow.
Following distance, not wearing seatbelts, cell phone use and other distractions are the most common risky behaviors captured by the system. Video clips of the events are available for review online within 24 hours. The DriveCam program prioritizes video events so that safety managers and coaches only see what need to see, she said, and noted the average driver has two coachable events per month.
Beyond safety
Future development by Lytx will include machine vision applications that go beyond safety to identify operational exceptions such as overfilled waste bins. This type of exception could help refuse haulers collect more revenue, Costas said.
During the press event, Costas discussed Lytx Video Services (LVS). By choosing this optional configuration, Lytx in-cab devices retain a continuous recording of the road facing camera view. Users can select any timeframe they want to view during the last 100 hours of recorded video.
Waste and refuse haulers could use LVS to find the time of day a driver passed by a certain house to prove the residents did not have their waste bin out on the street, as they might have claimed, she said.
With LVS a fleet can view a live feed of the road-facing camera as well. This could help fleet managers identify exceptions such as a driver being detained at a customer when loading or unloading.
The pre-wire kit also supports Lytx Hub, an optional configuration that allows fleets to connect up to four auxiliary cameras around the vehicle.
The event was held at TEC Equipment in Fontana, one of the largest Mack and Volvo dealerships in the country. The Fontana location is one of 26 TEC Equipment dealerships in five Western states.
This article was written by Aaron Huff, senior editor of Commercial Carrier Journal, a partner publication of Hard Working Trucks.