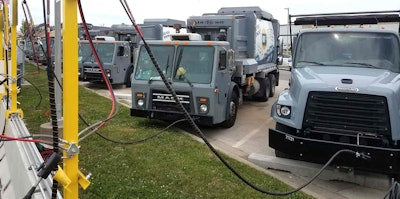 Clean Energy Fuel Corp. announced the opening of a compressed natural gas (CNG) station in Olathe, Kansas that will fuel 50 refuse trucks and 120 buses.
The $4 million project was funded by the City of Olathe, Johnson County and the Kansas Department of Transportation (KDOT).
"This successful collaboration between two government entities is an impressive accomplishment that will maximize the efficiency of the station and improve the ROI for the project," said Scott Vazzana, senior business development manager, Clean Energy. "By switching to natural gas, it is expected that the city and county will realize a $6.9 million in fuel savings through 2026, while providing improved air quality for the communities."
The station is expected to greatly reduce greenhouse gas (GHG) emissions, fueling costs, noise pollution and maintenance expenses.
The initiative is expected to reduce toxic emissions in the region by an estimated 20 to 29 percent, lower consumption of diesel fuel by 7,300 gallons annually, per truck, and provide an estimated 80 percent decrease in noise level.
"We know having access to cleaner burning transportation fuel like CNG is critical for air quality in our region, and in turn the quality of life of our residents," said City of Olathe Public Works Director Mary Jaeger. "We are thrilled to be part of this green initiative."
The City of Olathe and Johnson County join other Clean Energy projects and stations in the region, including the City of Kansas City, Mo., the Kansas City Transportation Authority, Lee's Summit School District, Blue Springs School District, and the North Kansas City School District.