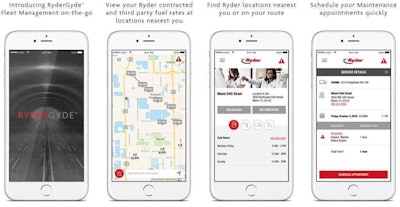 Ryder System announced today the launch of RyderGyde, a new, free mobile application and the only one of its kind allowing users to do everything from compare real-time fuel rates to schedule shop services from their smartphone.
The application allows drivers, fleet owners and fleet managers to use a customized approach to digitally managing and acting on their fleets.
"Consumers today have increasingly high expectations for service and delivery, so the need to ensure fleet uptime is greater than ever," said Dennis Cooke, president of fleet management solutions, Ryder. "RyderGyde is the ultimate tool in providing visibility to everything fleet-related and enabling businesses to optimize their fleet so they can meet their customer demands. In our personal day-to-day lives, we use our smartphones for nearly everything. Managing your fleet should be no different."
Any fleet manager or driver is able to leverage the features of RyderGyde which includes being able to view entire fleet and maintenance performance.
"Our goal was simple—build the features that customers want based on what's important to the person using the application," said Karen Jones, executive vice president and chief marketing officer, Ryder. "We listened to drivers and fleet managers to identify the features that would be most beneficial to them within a fleet management app, and today, we are pleased to give them exactly what they asked for."
DGD Transport, based in Miami, Fla., is pleased with the app's performance.
"RyderGyde is so simple and easy to use that it has made managing my fleet easier than ever," said Ray Perez, DGD's domestic manager. "I was pleasantly surprised by how intuitive this app is. I can't wait to see how they continue to evolve it. I'm putting it into the hands of all my drivers to make their lives easier on the road."
Once logged in, Ryder customers can schedule their maintenance appointments across North America in 60 seconds or less. In the app, users can view and manage which vehicles within their fleet need servicing. A combination of a vehicle's odometer reading and telematics data determines when a vehicle is ready for maintenance, and it is automatically flagged in the application. In addition, users can view all upcoming service appointments.
RyderGyde also gives users the ability to:
View Ryder contracted fuel rates– For the first time, Ryder customers will now be able to see their contracted fuel rates in real-time.
View fuel rates from thousands of non–Ryder fueling stations– All users can find and compare market fuel rates from a variety of retailers.
Find a Ryder location– All users can find and map Ryder locations using advanced search technologies. Both a preview of the destination as well as complete details, including phone numbers, and hours of operation are readily available.
Contact Roadside Assistance– The Roadside Assistance feature enables fleet managers to call their dedicated number at the touch of a button.
In the near future, the app will also include the ability to rent a vehicle, browse used vehicle inventory for sale and log fuel receipts.
The RyderGyde app is available on iOS and Android devices and can be downloaded on the App Store and Google Play. To learn more, visit­­­­ryder.com/rydergyde.