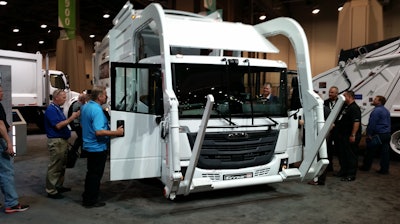 With an eye toward setting new standards in safety and efficiency, Freightliner unveiled its EconicSD refuse truck today at WasteExpo in Las Vegas.
The 6×4 cabover, available in high or low cab variants, grew from Freightliner's global network through parent company Daimler. Pooling company resources together for top safety and productivity technologies became a priority and led to what Freightliner calls a game changer for the refuse industry.
"The truck that's going to change the waste collection industry is the Freightliner EconicSD. It is a game changer," Richard Saward, Freightliner's general manager of vocational & government sales said at the reveal inside the Las Vegas Convention Center.
"If you have available technology that provides integrated safety systems, why wouldn't you want to offer it?" Saward continued. "If you've got a cab design that puts the operator and the pedestrian at eye-level with each other, how would you keep it out of the market? If you've got a side pedestrian warning system, why wouldn't you offer it? So our teams over the years have asked a lot of questions as we entered in to this market."
To help increase visibility, Freightliner has equipped the EconicSD with a large panoramic windshield and low seating position. The truck comes standard with electronic stability control, active brake assist, adaptive cruise control and lane departure warning.
Popular technologies that have been in use on Mercedes trucks overseas and Freightliner's Cascadia were implemented on EconicSD along with the Detroit Assurance suite of safety systems.
"We demanded more, so we demanded Detroit power and safety systems that are without peer and we brought it to an industry that frankly has been feeding off of adaptive and bolt-on solutions for far too long," Saward said.
The truck's 350-hp Detroit DD8 engine is paired up with an Allison 3000 series six-speed transmission which together will produce up to 1050 ft. lb. of torque. A natural gas variant will be available later.
Beyond safety and power, Saward explained that the EconicSD plays an important role in expanding Freightliner's portfolio in the refuse market.
"The Freightliner EconicSD will complete our vocational product lineup and allow us to fully serve this important industry," Saward said. "To be clear, you simply cannot be taken seriously in the waste collection space without a chassis ready for front-end loader buyers. At the end of the day, you simply have to have a low COE in this market and it has to be able to accommodate the front-end loader buyers in the market place."
The steel-reinforced aluminum cab has been designed with driver comfort in mind. Low floor height and a low-entry concept enhanced by a kneeling and lifting function are designed to make getting in and out of the truck easier.
There's seating for up to four. A suspended driver's seat features multi-axis adjustment and heating capability. Steering wheel controls allow drivers to cycle through key information displayed on an LCD screen on the dash alongside a digital instrument cluster.
EconicSD development was aided in part not only by refuse body builder experts at Heil and McNeilus, but also by those working on the front lines.
"By working closely with our North American waste collection customers and analyzing how we could provide a solution that best benefits their businesses, we recognized the opportunity to adapt the Freightliner EconicSD for this market," said Roger Nielsen, president and CEO for Daimler Trucks North America. "Our customers continually seek to elevate the safety and performance of their waste collection vehicles, and the Freightliner EconicSD is the right solution for the distinct needs of this segment."
The cab and chassis of the EconicSD are designed and manufactured in Woerth, Germany, Daimler's largest truck plant. More than 125 modifications were made to optimize the truck for North American operations. Final assembly of the cab and chassis will be completed in Gaffney, S.C., at the Freightliner Custom Chassis Corporation (FCCC) manufacturing facility.
Freightliner will begin taking orders for the truck in June. Rollout is scheduled for next April.