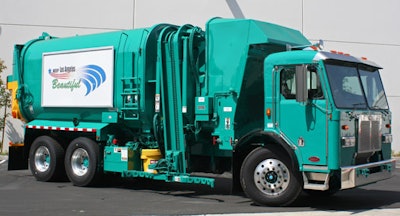 Coming off a recent announcement on California's first all-electric refuse vehicle (ERV) heading to Sacramento, Motiv Power Systems is deploying two zero-emission refuse trucks to the City of Los Angeles.
As a continuation of a demonstration project funded by the California Energy Commission, these Class-8 ERVs use the Motiv All-Electric Powertrain to drive a Crane Carrier chassis, with an automated side-loader body built by Amrep, Inc.
The trucks will be built by Amrep, Inc. in Los Angeles and are projected to be delivered in the first quarter of 2018. The City of Los Angeles Sanitation plans to run the ERVs on residential and recycling routes and expects to save as much as 6,000 gallons of fuel per year. Assuming a price of $3 per gallon, that amounts to annual fuel savings of $18,000.
Upon delivery, the Los Angeles ERVs bring the all-electric refuse trucks powered by Motiv to a total of three in California and four within North America. The first went to work in Chicago in 2014.
"Fossil-fueled garbage trucks emit about 20 times the carbon of the average U.S. home. They achieve just two to three miles per gallon, and stick to standard routes, making them ideal electrification targets for LA's sustainability program," said Motiv CEO Jim Castelaz. "We're proud that our all-electric refuse trucks will help the city achieve its cleaner air goals, as well as save on operational and maintenance costs."
As the City of Los Angeles develops pathways to meet an 80 percent greenhouse gas (GHG) reduction by 2050, reducing air pollution from mobile sources plays a key role.
Motiv reports that its scalable all-electric powertrain is uniquely suited for helping public works and city service vehicles contribute to GHG reductions by dramatically reducing diesel emissions from a wide variety of vehicles, from refuse and work trucks, to school and shuttle buses.
Rather than having customized vehicles provided by a variety of vendors, Motiv's modular design allows the same all-electric powertrain to be used across a full range of city work trucks, from Class 4 through Class 8.
The use of a single electric powertrain system for all of a city's electric work trucks is designed to simplify the maintenance and operation of a growing municipal electric vehicle fleet, which reduces the cost of spare parts and training. According to Motiv, this enables cities like Los Angeles to expand their carbon reduction efforts through electrification of work trucks, transit buses and other diesel vehicles without placing a heavy maintenance burden on their public works departments.
Similar to the Motiv powered electric refuse truck on the road in Sacramento, the Los Angeles trucks will have a payload capacity of nine tons and 1,000 pounds per cubic yard of compaction.
All Motiv ERVs are equipped with 10 battery packs, expandable to 12 packs if needed for future route expansion. With up to 212 kWh of power, Motiv reports that its ERVs supply enough electricity to efficiently move the truck and power the electric hydraulics throughout the day. Using the Motiv universal high power charger, the ERV batteries will easily reach full charge overnight.
In addition to ERVs in the Golden State, Motiv reports that two of its all-electric Type-C school buses are being placed on routes in neighboring San Bernardino County at the Colton Joint Unified School District. Those buses are also powered by Motiv's all-electric powertrain.