It's a dirty job and someone's gotta do it—and Fleet Clean has been doing it well.
Hard Working Trucks caught up the Florida-based franchise which since hitting the road with its mobile truck washing service in 2009 has enjoyed an annual growth rate of 40 percent.
Now with over 1,000 locations in 18 states, Fleet Clean recently announced franchise expansion plans throughout the Sun Belt states and into the northern regions of the U.S. for the anticipated harsh winter.
Fleet Clean CEO Scott Marr saw so much potential in the truck washing business that he gave up a promising banking career at age 20 to start the company.
"Trucks will always be necessary for businesses to deliver their product into the hands of consumers, and companies want their trucks to present a clean image. The combination of those factors makes our industry uniquely loaded with opportunity," said Marr, who's now 27. "We're responding to the growing demand by delivering convenient, high-quality washes and timely service for businesses with trucks across the country."
Each Fleet Clean rig is equipped with its own water, generator, pressure washers, soap dispensers, brushes, tools and water reclamation equipment, with customers only needing to supply the dirty vehicle.
Though Fleet Clean allows a franchise owner to select any Class 6 truck for their mobile wash service, they prefer the Ford F-650 for its classic rig model.
"We also use some smaller models as ancillary units for smaller jobs," said Fleet Clean's director of franchise operations, Skye Robinson.
Truck washing jobs typically involve a crew of three uniformed washers and last anywhere from five minutes to an hour, depending on the customer's needs.
"While Fleet Clean can wash any type of vehicle, our typical customer has straight trucks, tractors and trailers," Robinson said. "Generally, customers require a weekly, bi-weekly or monthly wash which is performed at their location on a schedule that suits their needs."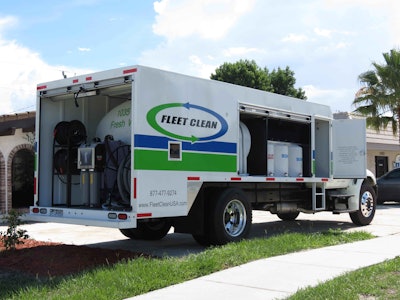 Committed to helping franchisees from various backgrounds succeed, Fleet Clean franchisees serve highly scalable areas that cover nearly 50 miles of territory per location. Franchisees are fully backed with home office support, which includes a sales team that creates recurring new business for franchisees in specific locations.
"We take on the marketing, sales, invoicing and customer support so that our franchisees can focus on opening the business and providing clients with pristine service," Marr said.
The company offers a unique refranchising opportunity to help new franchisees overcome the stress of launching a new business. With a letter of intent and initial payment, the corporate team will open a unit in the market, get it up and running and sell the business to the franchisee. "The program is ideal for those in the corporate world who might not be ready to up and leave their job. It eases them in with the peace of mind of a turnkey opportunity," Marr added.
Serving more than 1,000 businesses in 18 states, Fleet Clean reports that it's committed to providing the best service possible with centralized accounting and customer support system so that its clients get immediate satisfaction no matter what. The company employs technology to simplify business while ensuring they are protecting the environment by reducing use of paper, reclaiming water, and using environmentally safe products.
Today, Fleet Clean has 22 franchises and six corporate locations. The company is expected to open seven more locations by the end of 2017 and is looking to continue its expansion throughout the U.S., primarily in the Southeast and Midwest, along with major cities such as Chicago and Indianapolis. Fleet Clean is seeking single and multi-unit operators for expansion and has an initial franchisee fee that can range from $25,000 to $75,000.