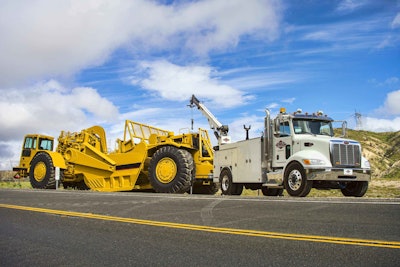 Iowa Mold Tooling Co. introduced today its new Dominator III 11-foot mechanics truck and 25-foot 12,000-lb. telescopic crane.
"We took the same approach with the 11-foot version of the Dominator III as we did with the 14-foot — provide a reliable, durable service truck with high-performance capabilities," said Jim Hasty, general manager of IMT. "We aimed to meet our customer's needs while offering a lighter, maneuverable body paired with increased lifting capacity from the 25-foot 12,000-lb crane."
The new Dominator III 11-foot is capable of working in tighter quarters than its 14-foot counterpart, maintaining stability and providing extra lift performance in critical work zones. The 11-foot body was driven by a market demand for a maneuverable truck that provides all the convenience and support of a service truck with the ability to meet tight application needs.
"The 11-foot body paired with the 12,000-lb crane offers operators enhanced flexibility on the worksite without sacrificing lifting capacity," said Hasty. "Customers will find that the new 11-foot Dominator III is an economical solution that has all the quality and options they've come to expect from IMT."
Additionally, IMT reduced the weight of the upgraded 25-foot, 12,000-lb telescopic crane by 440 pounds, while increasing the crane rating to 81,000-ft-lb. The IMT 12,000-lb crane can clear a 12,000-pound load easily, excelling in zones where operators work. Its increased capabilities complement the improved, lighter Dominator III 11-foot body, while offering operators superior performance.
The Dominator III 11-foot body enhances IMT's Dominator line of service trucks, while providing superior performance and customizable options in a compact solution.
For more information on IMT, an Oshkosh Corporation company (NYSE:OSK) visit https://www.imt.com/. IMT is on Facebook, Instagram, Twitter and YouTube.