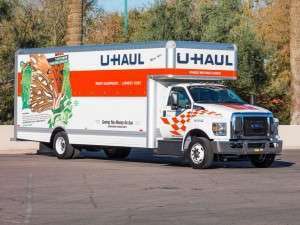 Houston remains the No. 1 U-Haul U.S. Destination City for the eighth year in a row, according to the latest U-Haul migration trends report.
While Houston witnessed a 3.4 percent decline in 2016 arrivals compared to 2015, it continued to be the busiest domestic market for incoming U-Haul trucks.
Following Houston in the destination rankings are Chicago, San Antonio, Orlando and Austin. Rounding out the top 10 are Las Vegas, Brooklyn, Philadelphia, Kansas City and Charlotte.
U-Haul International, the industry leader in do-it-yourself moving and self-storage, has been counting down the Top 10 U.S. Destination Cities leading up to Memorial Day weekend, which marks the unofficial start of moving season. Roughly 45 percent of all U-Haul moves occur now through Labor Day.
U-Haul Destination Cities are ranked according to the total number of arriving one-way U-Haul truck rentals to a city in the past calendar year. Destination Cities do not account for departing traffic, and thus do not necessarily reflect growth like U-Haul Growth Cities. Destination Cities reflect the volume and regularity of do-it-yourself movers coming into a community.
There are 32 U-Haul-owned stores and 140-plus independent neighborhood dealers within the Houston city limits. Find U-Haul truck and trailer sharing locations at uhaul.com/locations.
"Houston is growing by leaps and bounds," said Jerry Lunn, U-Haul Company of Gulf Coast Texas president. "In the last year, I've seen countless skyscrapers and condos being built. U-Haul is continuously expanding its locations and buying space for new facilities to accommodate the do-it-yourself movers and self-storage customers coming to the area."
Job opportunities and a diverse selection of industries play a major role in Houston maintaining the top destination spot.
"Houston is the country's No. 1 job creator," said Gabriel Mendieta, U-Haul Company of East Houston president. "This city is home to 24 Fortune 500 companies. The cost of living is low, and with low taxes, your paycheck goes further."
"I'm not surprised," added Lynn Buck, U-Haul Storage Centers of Houston president. "Houston is an international city with a stable housing market and a strong economy. It's a great place to live. U-Haul moves people to the next chapter of their lives. Our company helps DIY movers relocate for a better job, a new home, more family or retirement. Whatever the reason is, U-Haul is always there to help."
U-Haul is an authority on migration trends thanks to its expansive network that blankets all 50 states and 10 Canadian provinces. The geographical coverage from more than 21,000 U-Haul locations provides a comprehensive overview of where people are moving. Migration trends data is compiled from more than 1.7 million one-way U-Haul truck rental transactions that occur annually.
Review the Top 10 U-Haul U.S. Destination Cities on Twitter @uhaul and see the 50 leading U.S. destinations below. Visit myuhaulstory.com to view all U-Haul migration trends reports, including the U-Haul 2016 U.S. Growth Cities and Growth States.
U-Haul Top 50 U.S. Destination Cities for 2016
(2015 ranking in parentheses)
HOUSTON, TX (1)
2. CHICAGO, IL (2)
3. SAN ANTONIO, TX (5)
4. ORLANDO, FL (3)
5. AUSTIN, TX (4)
6. LAS VEGAS, NV (6)
7. BROOKLYN, NY (7)
8. PHILADELPHIA, PA (8)
9. KANSAS CITY, MO (9)
10. CHARLOTTE, NC (14)
11. COLUMBUS, OH (15)
12. PHOENIX, AZ (10)
13. SAN DIEGO, CA (13)
14. JACKSONVILLE, FL (12)
15. TAMPA, FL (16)
16. SACRAMENTO, CA (11)
17. DALLAS, TX (17)
18. TUCSON, AZ (20)
19. INDIANAPOLIS, IN (18)
20. ATLANTA, GA (23)
21. ST. LOUIS, MO (21)
22. LOS ANGELES, CA (22)
23. BRONX, NY (19)
24. FORT WORTH, TX (24)
25. MIAMI, FL (25)
26. PORTLAND, OR (29)
27. SAN FRANCISCO, CA (30)
28. COLORADO SPRINGS, CO (31)
29. NASHVILLE, TN (33)
30. WASHINGTON, D.C. (26)
31. DENVER, CO (40)
32. BALTIMORE, MD (27)
33. CINCINNATI, OH (32)
34. PLANO, TX (34)
35. RICHMOND, VA (42)
36. KNOXVILLE, TN (35)
37. OKLAHOMA CITY, OK (44)
38. RALEIGH, NC (38)
39. SAN JOSE, CA (43)
40. MANHATTAN, NY (37)
41. RENO, NV (36)
42. LOUISVILLE, KY (39)
43. MADISON, WI (45)
44. SEATTLE, WA (41)
45. TACOMA, WA (47)
46. COLUMBIA, SC (28)
47. ALEXANDRIA, VA (NR)
48. MEMPHIS, TN (NR)
49. BAKERSFIELD, CA (50)
50. DURHAM, NC (NR)