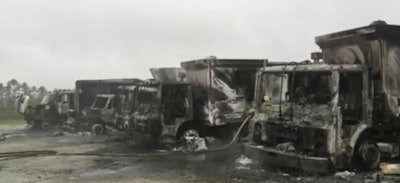 A fire that raged unnoticed for nearly five hours destroyed five garbage trucks and damaged another at a trash facility this week in Duson, Louisiana.
An electrical short in one of the trucks is believed to have ignited the blaze around 2 a.m. Sunday, but foggy conditions at the Waste Connections yard apparently prevented anyone from noticing the smoke until nearly 7 a.m. No injuries were reported.
"Because of the heavy fog no one noticed the smoke and the yard is not occupied overnight," Duson Police Chief Kip Judice told klfy.com. "It wasn't until this morning when a volunteer firefighter who was going to eat breakfast near this transfer station smelled the smoke and began his investigation. Without that we may not have not known until tomorrow morning that that fire had actually happened."
Judice said an initial investigation revealed that the fire was probably started by an electrical short in one of the trucks.
"Right now the preliminary investigation is indicating that potentially a short wire may have sparked some hydraulic fluid on one of the trucks causing that one to ignite and as that fire burned the diesel tank erupted and as the diesel flowed downhill each truck down the line took fire," Judice explained.
Losses have initially been estimated to be over a million dollars, Judice said. Duson is located along Interstate 10 in Acadia and Lafayette parishes, about 60 miles west of Baton Rouge.