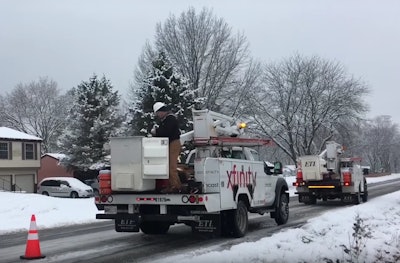 Being a bucket truck operator is no easy task. Add icy, snow filled roads and things can get a lot more dangerous fast.
That was the case this week for a Comcast service technician in Indianapolis who stopped to repair a cable outage. After parking on a two lane road Tuesday, the technician dutifully put out traffic cones to warn oncoming traffic that the lane was blocked by his truck. The tech put out at least one cone for every 10mph of the road's speed 40mph speed limit, as required by law.
At one point, five cones–one more than necessary–were placed on West Morris Street. However, the truck was parked below the crest of a hill and with all the snow and ice, drivers couldn't stop in time and slid off the road, or in one case, slammed into the back of another car. The woman who was driving the car that was struck from behind by a pickup complained of soar shoulders.
A nearby homeowner put out additional cones and attempted to warn oncoming vehicles about the service truck. He also videotaped the Comcast technician who was none too pleased with the impromptu interview and the suggestion that he move his truck or put out more cones to warn drivers coming over the top of the hill.
The video, which also shows cars careening off the road as well as the collision, went viral and has people talking about who might be at fault. Were drivers traveling too fast given the inclement weather? Should the Comcast service tech have put out more cones or had a flagger help with traffic?
Hard Working Trucks asked the Indianapolis Police Department to weigh-in.
"We encourage all our drivers to drive at a safe speed and leave enough distance to ensure they can stop to avoid accidents. At this point, the only open investigation is with the dark color pickup truck which left the scene after the accident. Per our Traffic division, Comcast did have enough cones on the road," Indianapolis Police Officer Aaron Hamer told HWT.
Comcast told HWT that it was investigating the event and had concerns.
"When I watched this video I was very concerned by what I saw. Our employees should always protect people and treat them with respect no matter what the situation. Safety matters most – especially in dangerous weather conditions like this," said Ed Marchetti, senior vice president of Comcast's technical operations.
"We are actively investigating what happened when our technicians were on site to restore services during an outage and we will reach out to those who were impacted by this incident.
"Within the next 24-48 hours, my team leaders will meet with our technicians across our company to use this as an example of how important it is to make everyone's safety a priority in everything we do.
"And just as important, there's no place for disrespect – treating people the right way is the only way to work."
What do you think? Watch the video and let us know your thoughts in the comments below.