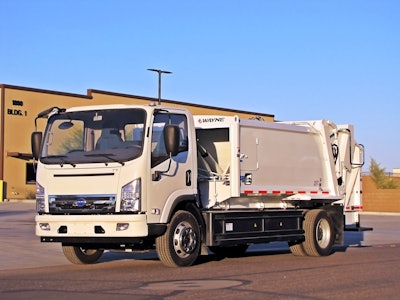 BYD, the world's largest electric vehicle manufacturer, and Wayne Engineering today announced the launch of a new fully-electric refuse truck for use in cities across the country.
BYD reports that private haulers and municipal fleets can benefit from zero tailpipe emissions and greatly reduced noise pollution. Operating costs are substantially less since the trucks require no diesel fuel, have fewer moving parts and employ regenerative braking.
"This truck represents a new era in waste management, one of the last remaining sectors untouched by green energy and electrification," said Stella Li, President of BYD America. "We're proud to be working with Wayne Engineering on a refuse truck that will protect the environment while providing for a 58 percent reduction in operating costs per mile."
Designed with sanitation workers in mind, this all-electric truck has a body that allows for improved visibility and operation on tight roads and alleyways. With 100 miles of range on a single charge, a first for an electric refuse truck, fleets can handle larger routes and distances between sites.
"We've been proud to design and manufacture innovative equipment for the waste management sector for half a century, and are thrilled to be a partner with BYD for this huge step into the future," Kevin Watje, CEO of Wayne Engineering said. "Refuse trucks are a part of every community in the country, and these all-electric trucks will start making a difference right away."
"Only 10 percent of refuse trucks use any alternative fuel at all, pumping our neighborhoods full of expensive and dangerous diesel fumes – or worse, PM2.5 from CNG engines. Many are particularly bad on greenhouse gas emissions and particulate matter, harming the health of those around them," Li added. "This new 3.9-ton truck, which gets 100 miles of charge in just 2.5 hours, is the chance to finally make cleaning our neighborhoods a clean prospect in and of itself."