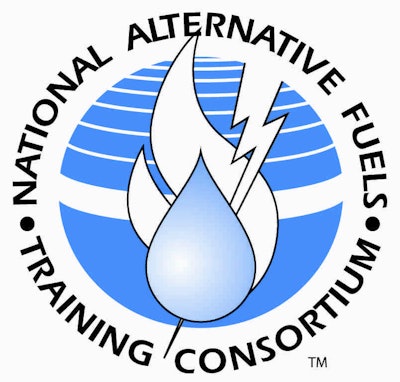 The National Alternative Fuels Training Consortium (NAFTC) has launched a new propane autogas vehicle technician training course.
Recognizing a need for qualified technicians to adapt, service, and maintain these vehicles, the free comprehensive course covers topics including propane characteristics, fuel systems, vehicle compatibility, system components, and safety.
By the end of the three-day course, NAFTC reports that course participants will have an in-depth understanding of servicing and maintaining these vehicles.
All NAFTC training sessions are available as contract training specifically for your group or organization, hosted either at the NAFTC National Headquarters in Morgantown, WV, or at your facility. All events below are held in Morgantown, WV unless otherwise noted.
The first training sessions will take place in Lima, Ohio from August 9 – 11. Refer to the NAFTC training schedule for other dates and courses.
Taught by certified NAFTC instructors, the three-day autogas course will enable participants to:
Explain the sources and processing of LPG
Describe the components of a propane autogas fuel system and explain how each operates
Know the different fuel delivery methods and how they differ (vapor, liquid, and direct)
Explain the three types of propane autogas fuel system configurations (bi-fuel, dual fuel and dedicated)
Learn the concepts of pressure, density, and volume in decribing, measuring, and handling propane autogas
Explain the operation of the electronic control module (ECM) and the components that connect to it
List the different steps in the conversion of a conventional vehicle
List personnel and shop safety procedures and describe the appropriate responses to common emergencies such as fire, gas leakage, and collision
Course outline:
Day one

Liquid propane gas and other alternative fuels
Original equipment manufacturers and converted vehicles

Day two

System operation for two types of fuel injection systems
Theory of operation for liquid and vapor injection conversion
How to perform post installation software settings

Day three

Safety related issues
How to transfer or replace fuel tank components
Safe operation of liquid or vapor systems and how to flare it off to the atmosphere
Course materials provided to the participant:
Participant Manual – ISBN 978-1-933954-17-2
Includes review questions and learning activities
Each module of the Participant's Manual contains text, illustrations, explanatory figures and tables, module review questions, and a list of key terms and abbreviations