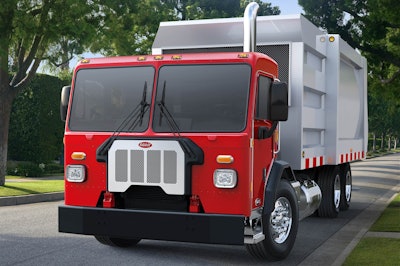 Peterbilt Motors Company announced Thursday the expansion of its refuse truck lineup with the new Model 520.
The new truck features a dual-seated/dual-drive configuration that allows customers to operate the vehicle from both sides of the cab, the availability of the Paccar MX-11 engine and 9- and 11-liter natural gas engine options.
The dual-station cab has two nearly identical work environments so drivers can seamlessly and safely operate from the left- or right-hand side, including dual controls for the parking brakes, HVAC system and stereo. The console sides are angled to give operators easy visibility and access to the same controls and displays from the right and left.
The cab also features an enhanced HVAC system for improved airflow and climate control.
"Peterbilt continues to improve the popular ProBilt interior that is ideally suited for vocational applications," said Scott Newhouse, Peterbilt Chief Engineer. "The Model 520 features Peterbilt's latest ProBilt design, providing an operating environment that optimizes comfort, ergonomics and productivity."
The Model 520's distinguished grille accommodates pantograph wipers that cover 27 percent more of the windshield than previous designs for increased safety during inclement weather.
Two headlight technologies are available for the Model 520, optional LED lamps and standard single halogen bulb lamps. Both provide long service and outstanding brightness and coverage.